One of the best things about going self catered in Morzine is being able to please yourself in the evening.  If you have enough energy left after a hard days skiing why not try one of these more adventurous dinner options.
Morzine Dining Experiences
The Crapahute – run by a local personality, Mark Dalton, the Crapahute is bookable for private dinner for around 10-20 guests. Food is simple but there is plenty of it and the wine is free flowing. It is about €40 euros a head all in.  The Crapahute is in the Vallee de la Manche and has a wonderful view over Morzine, you really feel like you are in the middle of nowhere, because you are!  Part of the fun is getting there, you take the last bus of the night up the vallee then walk to last 15 mintues.  Mark will feed you and entertain you with silly party games if you want.  Then it's out for some sledging in the dark.  Great fun and great value.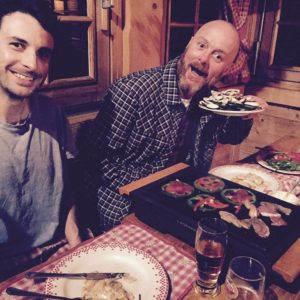 Exclusif – this restaurant is behind Mont Chery in L'Encranaz and has amazing views.  On a clear night you can see the galaxy above you as there is very few lights around.  They are bookable for dinner for 8 plus guests.  They have a little cat track truck that takes you up there from the car park below.  The menu is small but it is all homemade and it is a little pricey but it is all about the view and the experience.
La Grande Ourse – if you are after a Morzine dining experience that is a little more up market,  a mile above Les Gets on Mont Chery, La Grande Ourse does a special 5 course menu a couple of nights a week during the winter season.  They have a piste basher type vehicle called a Kassböhrer that takes you up there.  The 2015/16 season it was €95 per person.
Night Sledging – you've been skiing around for a few days and at least once you will have thought "I wonder if it would be fun if I took a sledge on the piste"…….so for about €25 euros you get a guide, a sledge, a head torch and a lift pass up the Pleney so you can find out. You will fall out, you will get wet, you will be slightly hysterical.  The finish is at the foot of the Pleney about 7 so book a table in town for 7.30.  The Bec Jaune Brewery is a good idea because they won't care you're in your soaking wet ski kit and it is pretty close.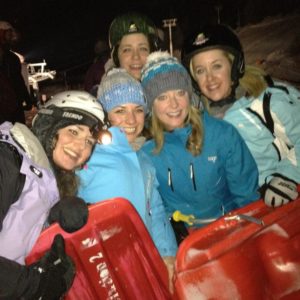 If you are thinking of coming skiing please contact us.  Our luxury self catered chalets in Morzine are central and you get our concierge service to help you book anything you need.