Our Chalet of the Week is Chalet Kapa.  This stylish self catered Morzine chalet has a huge wow factor, both in its design and its facilities.  Chalet Kapa sleeps up to 12 guests, 8 adults and 4 kids.
Chalet Kapa Has It All
The living space is very social with a central kitchen with island and stools.  If you have booked a private chef you will be able to see them work and chat to them about what they are creating for you. And if you are cooking, then you won't miss out on any of the fun your friends or family are having.
The large dining table flanks one side of the kitchen and is lit by a designer "sputnik" light.  On the other side of the kitchen there is comfy seating and 80″ TV.   There are windows to the front and rear of the living area so it is very light during the day.  On an evening you can get the fire going and cosy up.
The tech facilities are second to none at Chalet Kapa.  The state of the art music system allows you to play anything you want from your phone and there are speakers in every room and in the garden.  This really is a party pad if you want it to be!  All the rooms have access to the owners Apple TV account and the 700 plus movies he has purchased.  The private outdoor hot tub is large and has disco lighting.  Plus there is a sauna.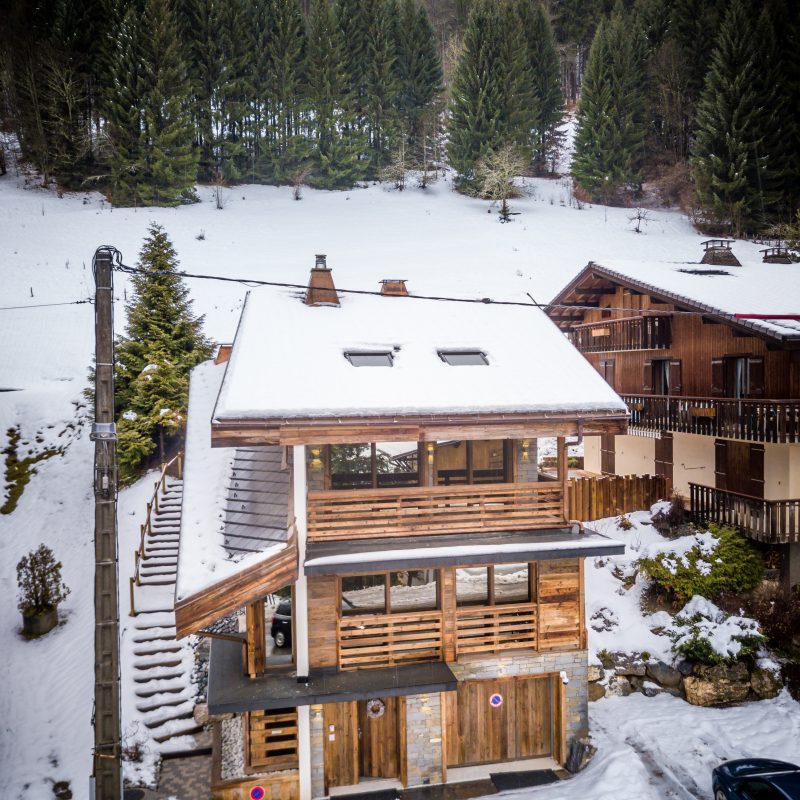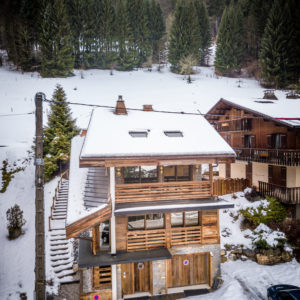 The chalet is new but has been built with traditional old wood both inside and out.  It is built over 4 floors and has a private south facing terrace.
There are 4 ensuite bedrooms including a master with a walk in wardrobe.  Plus there is quad bunkroom with kids sized bunk becds, TV and access to a sunken patio.
Self Catered Morzine Chalets with Flexible Services
This self catered Morzine chalet is one of Elevation Alps serviced properties which includes mid week cleaning and daily bakery deliveries.  You can choose to add any of our services, from catering to extra housekeeping, liftpasses to transfers.  We can delivery wine or groceries and if there is a special occasion to celebrate while you are with us we can organise anything you need, from cake to cocktails.
Winter at Chalet Kapa
The chalet is on the lower slopes of the Morzine ski area.  A blue piste runs behind the chalet.  From this piste you can drop off and ski a small distance of easy off piste to 100m from Chalet Kapa.
There is a ski rack and boot warmers in the garage.  If you don't want to walk the 10 minutes to the ski lift we can arrange a slope transfer.  And there are options for leaving kit at the main lift.
Summer at Chalet Kapa
The huge secure garage has plenty of space for bikes.  There is parking for 3 cars on the chalets drive.  The south facing terrace is a real suntrap.  As well as the hot tub there is designer outdoor furniture including dining and comfy seating.
Why we love Chalet Kapa
It has it all – hot tub, sauna, music system and Apple TVs
It is fully serviced – you can choose any of our optional concierge services to make your holiday perfect
It is central – just 10 minutes walk to the village and you can ski in to 100m away
It is the WOW factor – from designer lighting to hand made furniture, this is luxury modern chalet style on steroids!
Book Chalet Kapa
Click here to book Chalet Kapa. From the chalet home page you can find the exact location, floor plan and a full list of inclusions.  You will find live and up to date availability at the bottom of the page.  Clicking BOOK will allow you to reserve your week.  We will be in touch with you directly to finalise your booking.