Les Gets Bike Park opens for weekends from the end of May until Crankworx on 14th June.  My husband has never been downhill biking in the 3 years we have lived in Morzine so we took him along for a go.  If you are here this summer and have never tried downhill here is our step by step guide.
Get Kitted Out
Martin hired a GT Fury Expert Downhill bike from Alpine Sports Morzine rentals (€90 euros per day including full face helmet).  The shop will have Trek Session 88 available for the 2107 season.   You can use an enduro/cross country bike for alpine downhill too, Alpine Sports do a GT Force X.  There is nothing to stop you trying the downhill runs on a hardtail but you'll find it difficult and exhausting.
Hiring a bike means you can get the right one for the job and it will be mended instantly and with no extra cost.  Alpine downhill can be tough on a bike so they often need new parts.
Breaking your self is also a risk you can minimise with the right kit. Martin included full body armour (€15 euros) to his days hire.  If you choose an enduro/cross country bike and are just going to mainly ride downhill, then add that in too.
The best sort of trainers to get are specialist mountain biking ones with a sticky sole.  Most people use a brand called 510.  If you don't have those go with the stiffest soled trainer you have.
You must have holiday insurance that covers you for action sports.  If you need mountain rescue call 112.  You will need to pay upfront for any treatment so make sure you keep your receipts.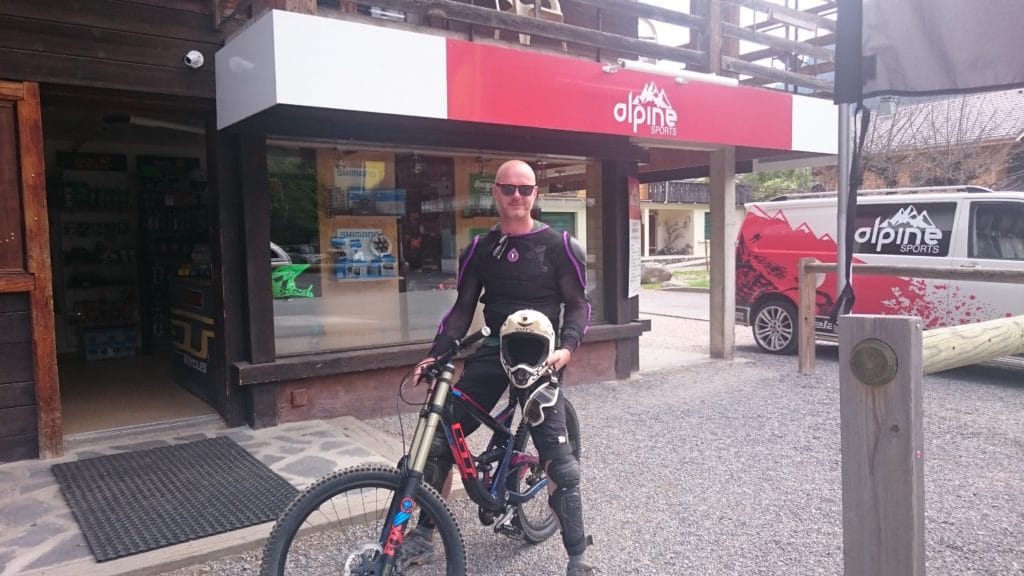 Get There
Les Gets is a good place for beginners so if you have a car drive to Les Gets and park near the Mont Cheri bubble on the Morzine side of town.  Parking in the summer in Les Gets is free.  Cycle into Les Gets and make your way to the Chavannes lift station on the left hand side of town.
If you dont have a car, after the 23rd June you can access Les Gets from the Pleney bubble.   From the bubble there is a blue track to the right that leads down to Les Gets.  Most of it is downhill and pretty easy.
Liftpasses for bikes from either Les Gets or Morzine are €23 per day, and the price is reduced if you buy consecutive days.
Get Ridding
Just like skiing runs are ranked in difficulty from easy green through blue, red to expert black.  All the runs are very clearly marked from the chair lifts and point you along the way.   You will always end up at one of the two running chairlifts.  The lift office can give you a map.
Getting onto the chairlift requires your full attention as you have to roll your bike onto the racks on the chair in front of you.  There are clear signs to explain but watch a few people do it before charging on.  If you have a child with you ask the lift operative to help you.  As a short person with a very heavy bike I find it a bit challenging and ask for help so don't be embarrassed.  The operatives at the top of the lift take your bike and put it in a rack for you to pick up.
For your first run at the top of the Chavannes chair take the green run signed to your right. It has 3 sections through the woods and ends up on a fire road that leads you to a jump park.  Once through the park the run takes you back to the Chavannes chair.
Back up the lift, and if you found the last run easy then make a start on the blues.  Blue runs will have higher burns and tree roots to navigate.  Reds will have jumps and drop offs, but there will always be an easy route around difficult ones.  Black runs really are for experts with large gap jumps and drop offs.
Get Refueled
Most locals use K2 burger for lunch in Les Gets, their burgers are amazing and about €9 each.  They have bison burgers as well as the normal list.  It is just next to the parking area near the Mont Cheri lift in a little hut with outside tables.  It is often difficult to get a table and ultimately it is a takeaway joint.
But there plenty of restaurants open in Les Gets centre to try.  The one opposite the pump track in the main square is always popular.
Get Clean
Les Gets have an excellent wash off station next to the Chavannes lift.  It is free with your liftpass.  With powerful jets and a stands this is the easiest way to get your bike clean.
If you have cycled over from Morzine the easiest route is to take the main road back.  Thankfully it is downhill all the way.
If you want to clean your bike off in Morzine there are a number of options.  There is a wash just to the right of the Pleney bubble, it was €1 last season.  The Cottage bar just down from the Pleney bubble offers free wash off if you buy half a pint.  Or Alpine Sports have a wash off, which is free to customers and a couple of euros to anyone.
Why Elevation?
Elevation cater for cyclist of all kinds at our self catered chalets and apartments.  Our properties have secure storage and are close to Morzine center so you can easily access the lifts.  They also come with hot tubs and saunas to ease those tired muscles.
We can help you plan your routes and give you contacts for bike hire.  As local experts we know which trails are running well and which you might want to avoid.
If you don't want to cook then we can organise freshly cooked deliveries or private chefs.  Or we can just point you to best restaurants.
All our Morzine rentals of luxury chalets and apartments have great summer rates, so may be more affordable than you think.