Morzine has been well-known for its world class mountain biking terrain for many years and attracts riders from all over the world, but more and more it's becoming a destination for road cyclists looking for a true Alpine style challenge. With the 2016 penultimate stage of the Tour de France finishing in Morzine, with the surrounding area featuring heavily in the racing, Morzine was placed firmly on the map of 'must do', bucket list places any discerning cyclist just has to visit.
Here we take a look at some of the very best and most famous road cycling routes around the area that can started if you're staying in Morzine.
Col de Joux Plan
Regarded as the toughest mountain climbs in the region and the most famous, with starting points in either Morzine or Samoëns on the other side of the mountain. The most famous moment being the 2000 Tour de France stage into Morzine where Lance Armstrong capitulated and just made it over the top of the Col for what must have been a blurred descent down into the town. Fortunately for anyone staying in Morzine, it's a little easier than coming from the other side, as there's less vertical to climb, but it's still going to be a good hour for most cyclists at a gradient of around or over 9% for almost 12 kilometres. It's certainly a big one to tick off the list and although not the longest climb on the Tour de France circuit, it's certainly one of the hardest.
Facts and figures
Distance: 52KM
Highest elevation: 1700m
Level required: Advanced
Unique feature: Amazing views of Mont Blanc
Worth a stop: Lhottys restaurant just below the Col de Ranfolly
Col de la Ramaz
A fearsome Col (mountain pass) well-known to Tour de France riders as one of the toughest ascents in the Alps (although there's much debate as to whether it's harder than the Joux Plan and general opinion swerves towards it being slightly easier), makes for a good days ride for an experienced cyclist who has at least done some Alpine style riding previously. From Morzine, it's a fairly mellow ascent up into Les Gets and through the village. From there, a long 10 kilometre descent takes you down to the town of Taninges, and a right turn and some flat road riding, takes you to Mieussy. Here, the smaller road to the col starts in earnest and you're soon heading upwards through the small mountain villages and above into the cow meadows. The final sections include a steep section through a tunnel that can provide rest bite from the heat on a sunny day, but the gradient is pretty extreme. After that, the road flattens out towards the very top, where the views open up to the Chamonix Valley and Mont Blanc. Getting back to Morzine involves a long, steeper descent and then a smaller climb to the col de d'Encrenaz, before heading back down the valley via La Côte-d'Arbroz and into Morzine itself.
Facts and figures
Distance: 14km
Highest elevation: 1619m
Level required: Advanced
Unique feature: Steep road tunnel section
Worth a stop: Restaurant Jean de la Pipe
Col de Joux Verte
Another col that has featured many times in the Tour de France is the Joux Verte. It's reached via a loop that can be done either way, but clockwise from Morzine is generally considered to be the best way around. From Morzine, first descend into Montriond before a long and steady climb around the lake brings you to the village of Ardent. The road here becomes steeper and narrower until you reach the Village des Chèvres (goat village), named for obvious reasons – the population is mostly goats, especially during the summer. If you can keep yourself away from the numerous restaurants then continue up into Lindarets (more restaurants) and continue up towards Avoriaz…
Facts and figures
Distance: 32km
Highest elevation: 1800m
Level required: Advanced
Unique feature: Goat Village
Worth a stop: La Crémaillère in the Goat Village
Lake Geneva
A longer ride, but much flatter than the mountain passes around Morzine. Head out of town north towards the lake and ride around it – sounds easy, but it's a big lake! It's well over 250 kilometres if you do the whole thing, but it's possible to go half way around to Lausanne, in Switzerland and then take a ferry back, cutting the over distance significantly. Alternatively, just ride down to Evian and take the ferry across for a day trip – then back again and ride home. That's still nearly 80 kilometres of riding though.
Facts and figures
Distance: 250 km
Highest elevation: 1,000m (Morzine)
Level required: Intermediate (short program), Advanced (full program)
Unique feature: well, the lake
Worth a stop: B. Violier – Restaurant de l'Hôtel de Ville (3 star Michelin restaurant just above Lausanne – but expect to pay at least £150 per person and that's just the entry level)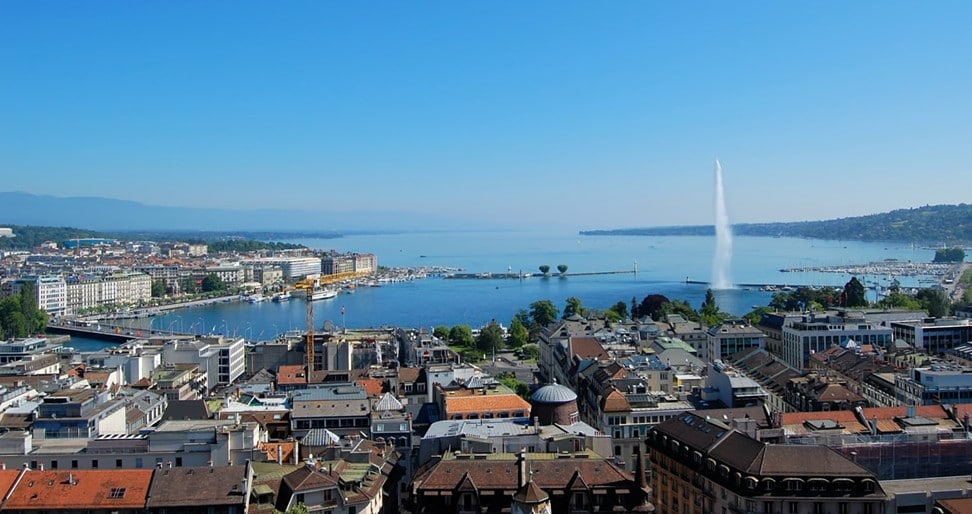 Pont des Gets
This accessible ride is fun and not as demanding as the tough cols around Morzine. First, take the fairly gentle climb out of Morzine and up into Les Gets. Then descend down into Taninges on the D902, about a 10km stretch that requires little or no pedalling as it's all downhill. From Taninges, sweep back around towards the village of Rond on the D307, a quiet road that you can follow all the way back up to Les Gets and then down again to Morzine.
Facts and figures
Distance: 50km
Highest elevation: 1172m
Level required: Intermediate
Unique feature: long descent into Taninges
Worth a stop: Yama Japanese and sushi shop in Taninges
Guided Cycling
If you fancy giving some of these cols a go but would like a guide that is no problem.  Buzz Performance offer guided rides from Morzine throughout the summer.  Joe, Amelia and their guides are all extremely knowledgeable and have full qualifications needs to guide and give you any training you might want.  Just ask us to put you in touch with them
Luxury Self Catered Accomodation in Morzine
Our luxury self catered apartments and chalets are ideal bases for your cycling holiday.  Whether you are a family looking for adventure including some cycling or whether you are a cycling group focused on hitting the big cols; we have accommodation from under 200 euros per person per week.
Get in touch with us at info@elevationalps.com or fill in our enquiry form