Elevation have teamed with Buzz Performance to offer guided cycling holidays.
As you would expect from Elevation, we have handpicked the best and most highly qualified local guides and enabled our guests to create completely bespoke packages.   Whether you want an all encompassing cycling holiday or just to add a few guided rides to your stay, we can arrange that for you.
Cycling in and around Morzine
Morzine is an amazing place to ride with breath taking scenery and world renowned routes.   You'll take in mountain views, charming village and waterfalls with plenty of opportunities to stop for photos and coffee stops.  The famous cols included in the Tour de France are on your doorstep like the Col De Joux Plane, Col De La Ramaz and Col De La Colombiere.  And there are many less well known and equally spectacular climbs to explore.  Morzine itself is a large resort with an array of restaurants and bars.  The location is great as a base for cycling along the Route des Grandes Alpes and with at the foot of the Joux Plan, which is why it hosts one of the mountain stages of the Tour about once every 3 years.
Your Guides
The rides are guided by Joe and Amelia Pearson who run Buzz Performance.  Amelia is a former professional triathlete and has a degree in education and performance level coaching qualifications.  Joe stared his career in Aussie Rules Football but cycling is now his passion. He also has a degree in human movement and sports psychology and has much teaching experience.  Both Joe and Amelia hold all the relevant qualifications to coach and guide in France.  You will find Joe and Amelia incredibly supportive not matter what your level.  They are welcoming and fun, pushing you further than you thought you'd go with the lightest of touches.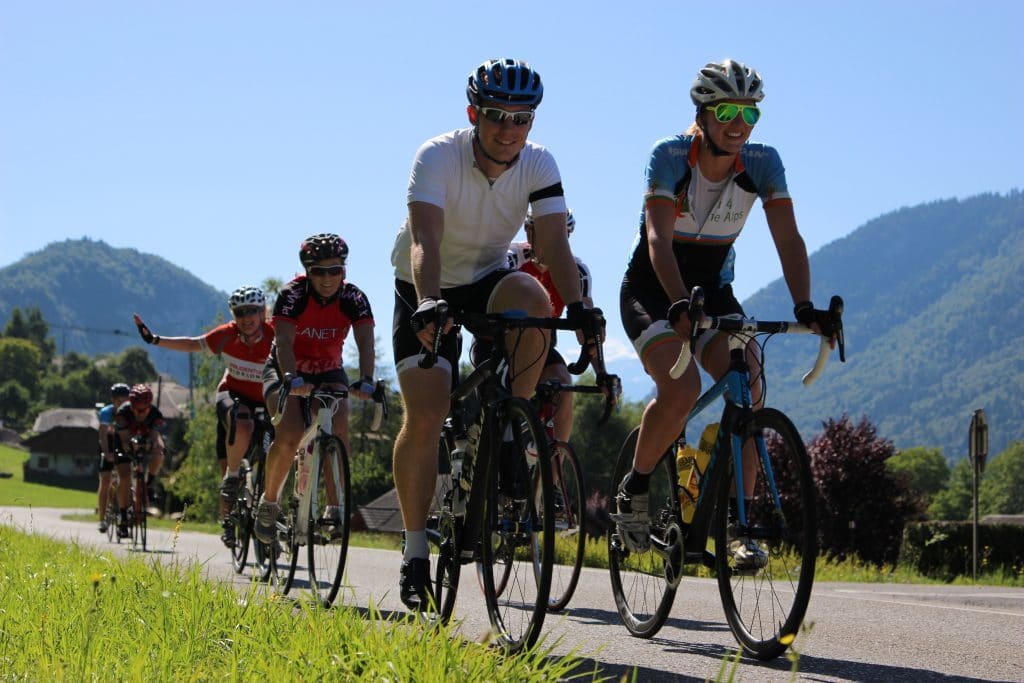 The Rides
The guided and supported rides vary from 2 to 6 hours taking in those famous Cols and flatter valley bottoms.  There is something for everyone and the schedule is planned to suit the needs of the group and can be adjusted to suit all levels of cycling ability.
We can book rides for single riders or larger groups, for just one morning or every day you are here.  Perhaps you would like a family holiday with a guided ride or two added on.  Or perhaps you have a race you are working to and what to combine a family holiday with training.  Or perhaps you want to organise a group cycling holiday. Whatever your needs, we can accommodate it.
Buzz Performance will ensure you and your bike are fully prepared for the following days ride, briefing you on where the route will take you, how long it is expected to take and what kit and food you will need to take.
You can either bring your own bike or easily hire from Morzine.  If you book a guided ride we can offer you 20% off bike hire from Alps Bike Hire
You can add guided cycle rides to your stay any time from late May to early October.
Accomodation
You will stay in one of luxury chalets and apartments in central Morzine.  On a sole occupancy basis you and your group will have privacy to allow you to spend quality time together.  Our properties start as self catered and then you can add on which ever concierge services you wish, from private chefs to housekeeping, grocery and wine deliveries and transfers.  We work with you to create your perfect holiday
We have chalets that sleep 4 to 13, so we have plenty of property options to choose from. Our properties are in central Morzine and many have hot tubs or saunas.  They all have secure bike storage.
Prices
To give you a guide, we have priced up some options below:
Add a ride to your stay:
Add a guided ride to any Elevation booking from €35 euros per person
The Weekend Famous Col Challenge:
Come for a short break to conquer the big local names; Col du Joux Plane, Col de la Ramaz and the Col De La Colombiere.  You will stay in our luxury apartment Chalet Des Nants 2
From €395 euros per person
Based on:
A 4 nights stay in a private bedroom in Chalet Des Nants (based on 3 sharing the apartment)
Expert guiding on 3 col rides
A welcome pack
All linen and towels and cleaning
Dates from Thursday to Sunday throughout July, August and September.  If you have specific dates we may be able to accomodate
Create a week long cycle holiday:
A luxury self catered chalet/apartment and daily guided cycle rides
from €550 euros per person
Based on:
1 weeks self catered stay at Chalet Des Nants 2 in June, July or September
4 adults
5 half day guided cycle rides
Welcome pack
Tourist Tax
End of stay clean
Experience the Tour de France
Join Buzz Performance on Saturday 8th July or Sunday 9th July to watch key mountain stages of the Tour de France.
Saturday 8th July
"A short drive into Switzerland before jumping on our bikes and cycling towards a mountain top finish of the Tour de France. The 30km ride up to the stage finish line of the Tour's lumpy stage 8 also means you finish the day with a 30km down hill ride back to the van."
Sunday 9th July
"We will load up the vans and transfer to the beautiful town of Aix les Bains, heading off with drinks and snacks we will climb to a great vantage point on the Col du Chat. Enjoy the excitement of the caravan and watch the pain on the faces of the cyclists as they make their way up the climb of the first real mountain stage of the tour."
Elevation chalets and apartments start as self catered with the option of adding bespoke services like private chefs, transfers, wine and grocery deliveries.  We are very happy to help book the huge array of outdoor activities Morzine has to offer, which now includes guided road cycling.
To find out more contact us.  Either via the contact form opposite or by email info@elevationalps.com or call us.  We would be more than happy to discuss any plans you might have and guide you through your options.