Ice Skating In Morzine Is Fun For The Whole Family
Ice Skating in Morzine is a great way to spend an afternoon away from the slopes. Although the skiing in Morzine is fantastic, we know that not everyone that goes on a winter mountain holiday is there for it. Luckily Morzine has an abundance of other activities to keep everyone entertained during their holiday.
Indoor and Outdoor Rinks
Morzine is actually home to two ice rinks during winter season. As well as the permanent rink located in the Palais des Sport, the town also install an outdoor rink in the town square by the tourist office. This smaller rink is open daily and is the perfect activity for the whole family to enjoy. Being outside and exposed to the snow and surrounded by alpine architecture it's easy to feel immersed in a real winter wonderland.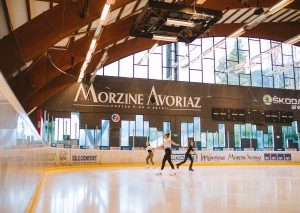 The main ice rink is located in the Palais des sports which is just underneath the super Morzine bridge. The full size rink is open every afternoon and is suitable for all levels of skaters with lessons available for beginners. Whilst classic skates are the standard rental equipment, hockey skates are also available for the more confident skater. It costs EUR 2.30 for kids and EUR 4.00 for adults per session and skates cost EUR 3.70 to hire (prices correct as of September 2019)
There is stadium seating along the whole length of the  rink so if you fancy just watching the rest of your friends or family slide around then you can do so in comfort (it is quite cold in there so remember your jacket). Drinks and snacks are also available from the bar during skating sessions.
Go and Watch the Penguins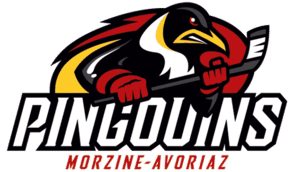 The rink at the Palais des Sports is called the Skoda Arena and is home to Morzine's very own Hockey team the Penguins. After splitting from an affiliation with the Chamonix Pioneers two years ago, the Penguins have been battling their way back up the tables and currently play in division 2 of the very competitive French league.
The Penguins play regularly throughout the winter season in league, cup and exhibition (friendly) matches and we thoroughly recommend watching a match. If you've never seen a competitive ice hockey match before, you'll not be disappointed, end to end, full contact action from start to finish.
And what better way to relax after sliding around on the ice than warming up in the hot tub of your luxury central Morzine self catered chalet or apartment. If you haven't yet booked your Morzine accommodation then please drop us a line using the contact us form or browse through our exclusive portfolio of luxury Morzine self catered chalets and apartments here