All our luxury self catered chalets and apartments in Morzine come with complimentary toiletries.  We choose the BeeKind range by Gilchrest and Soames for this important role.
We choose this brand because they are high quality, natural products which are lovely to use. But perhaps most importantly a portion of the profits from BeeKind products are used to help support the Bee Research Facility at the University of California.
In 2016/17 the brand was available in plastic tubes, great for in the bathroom but bad for the environment because they were not recyclable.  You can imagine how many we throw away every week, so this was something of a bug bear.
Thankfully the brand is now available in paper bottles, a packaging innovation that represents a 59% reduction in material by weight and a 92% reduction in waste space compared to rigid plastic bottles, as well as in 100% recyclable tubes.
We did not have to think twice about buying into this new innovation and from this week, all our complimentary toiletries will be in the new recyclable format.  We are really proud that we can offer a natural recyclable product that gives back to bee research.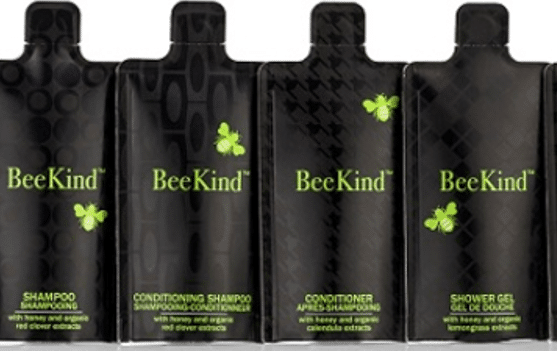 All our luxury self catered chalets and apartments come with BeeKind toiletries for every guests in the generous welcome pack.  We provide a small bottle of shampoo, conditioner, body lotion and shower gel for each guest.  The pack also includes kitchen essentials, an excellent bottle of red and white wine from our Wine Delivery Menu, fresh bread and milk and snacks.
If you would like to know more about our holiday rental chalets in Morzine, for summer or winter, please get in touch with us at info@elevationalps.com