Our self catered chalet holidays in Morzine are perfectly situated to take advantage of the beautiful towns and villages tucked away in the Northern Alps.  Our new blogger Robyn Dobson, has picked one of her favourite places to get off the beaten track.
Mont Caly
It is a tiny, quaint hamlet with fantastic views over to Pras de Lys, Les Gets and beyond to Mont Blanc.  Mont Caly is situated at a 1490m altitude, barely a few kilometres above Les Gets and a 45 minute walk from the top of the Mont Cheri telecabine.  You can access the telecabine free with your Multipass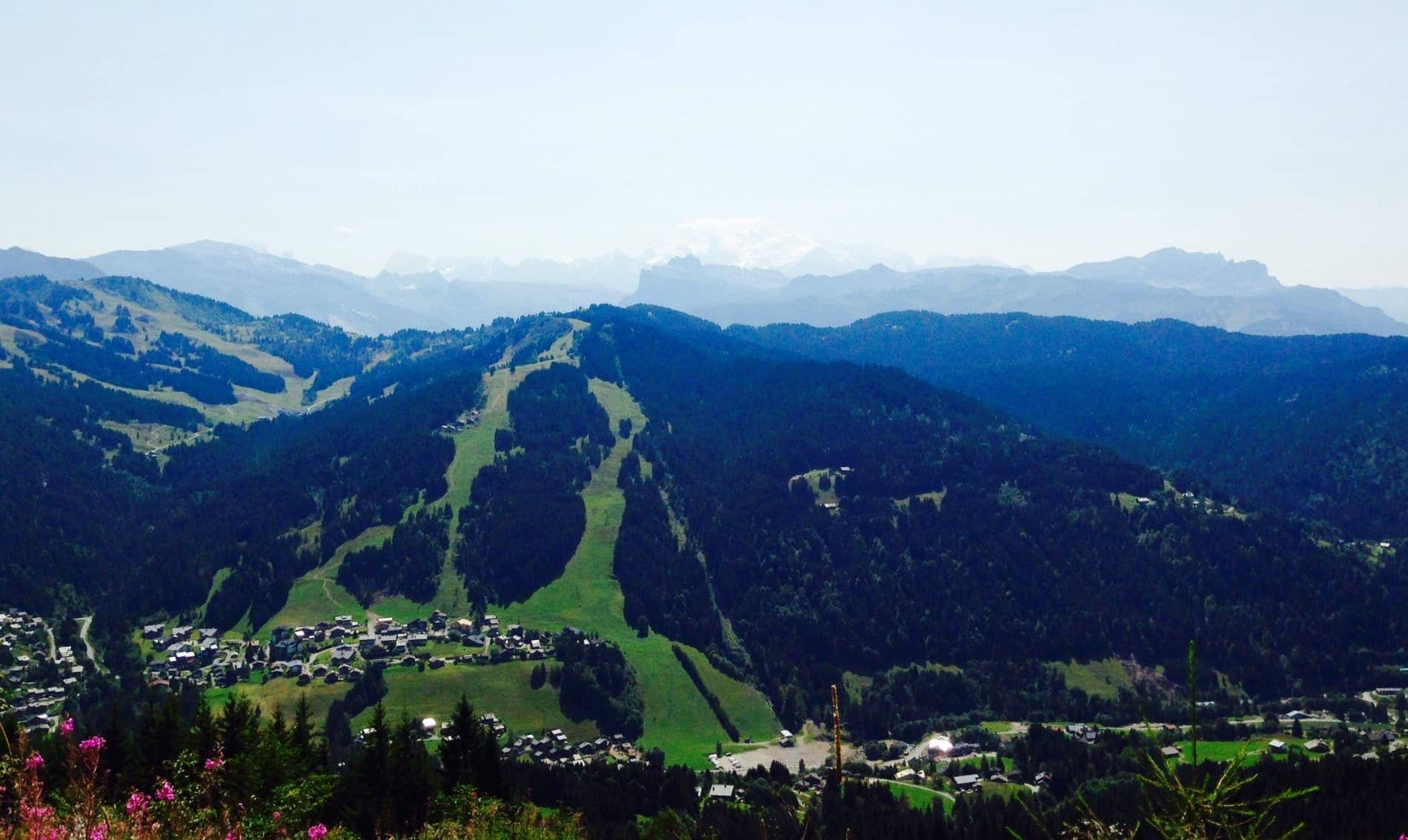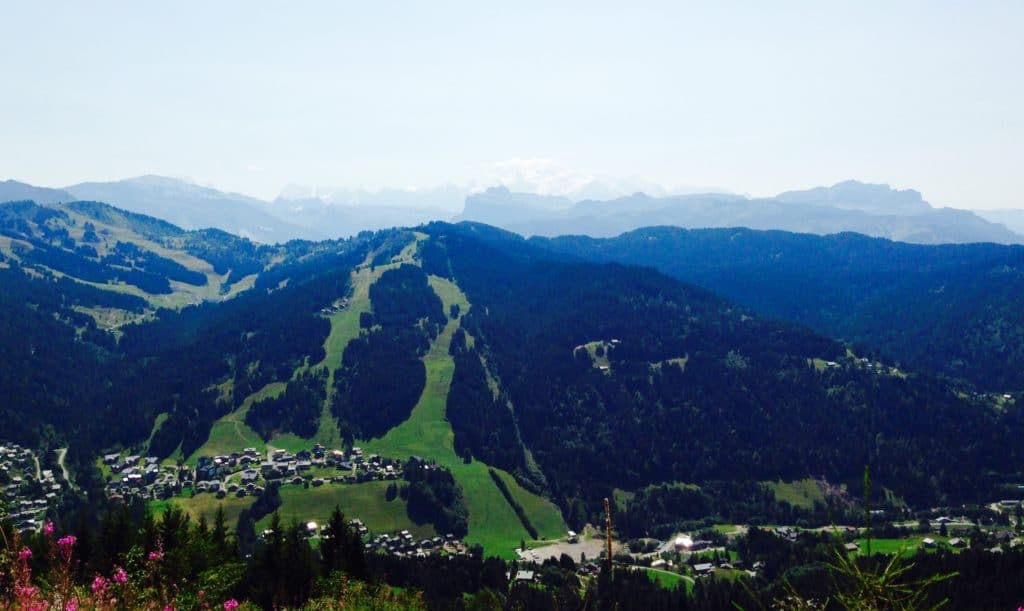 View from Mont Caly to Les Gets and Mont Blanc 
There are couple of options for refreshment at Mont Caly
Les Chevrelles
Les Chevrelles: a typical Savoyard restaurant that boasts an absolutely stunning panoramic of the local mountains, as well as a spectacular view of "le massif du Mont Blanc".
In summer it is possible to park directly by the restaurant itself, driving up the winding roads from Les Gets – you will easily spot sign posts directing you to Mont Caly. However in winter, it is possible to park at Parking des Places, with a 15 minute walk up to the restaurant.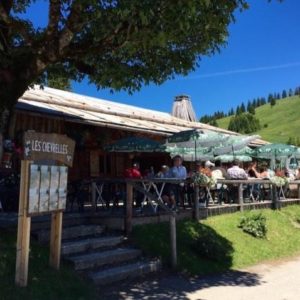 Les Chevrelles is open every day for lunch: the menu is slightly limited, offering a choice of omelettes, salads and typical Savoyard dishes, but very tasty as they use local produce.
The staff are very friendly, but when the restaurant is packed on a warm summers day, you can expect them to be rushed off of their feet – it is a top tip to top up your own carafe of water from the fountain situated in the middle of the terrace. Due to the views, it is advisable to eat at Les Chevrelles on a clear day so you can truly appreciate the scenery. And make sure to book a table: the expansive terrace easily gets booked up, although there is also plenty of seating inside for a colder day.
La Freme Noires Des Cimes
Less than a two minute walk from the restaurant you pass by a small hut named La Ferme Noires des Cimes, open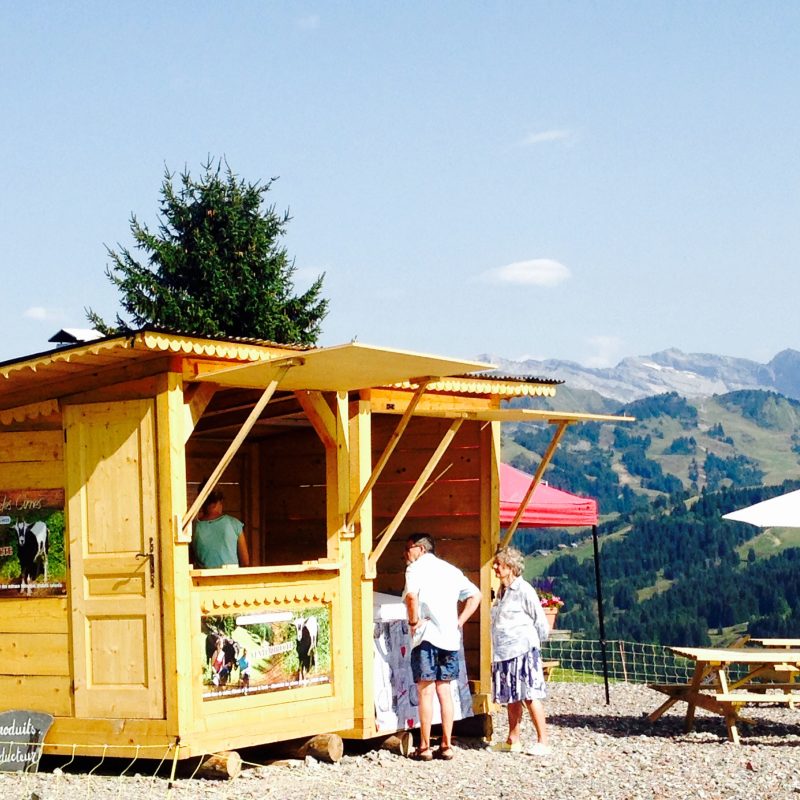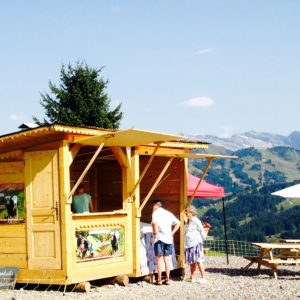 everyday from 11am until 5pm, which sells produce that has been made locally. There is a small picnic table so you can enjoy the views whilst tasting the local cheeses and meats, accompanied by Bio apple or pear juice from Cluses.
6€ per person – a taster of different meats and cheeses, accompanied by sliced bread to accompany your picnic
12€ per person – bread to accompany your cheeses and meats; home grown salad; and a choice of locally made yoghurt or goats cheese or Herens cattle cheese
15€ per person – bread to accompany Armaillis cheeses; local meats; home grown salad; and a choice of locally made yoghurt or goats cheese or Herens cattle cheese
If you would like to book one of our stunning luxury chalets in Morzine for your next summer or ski holiday please get in touch at info@elevationalps.com and take a look at our website www.elevationalps.com