One of the benefits of booking with Elevation Alps is the ability to add any of our concierge services to your booking to create your perfect holiday.  We handpick the best private chefs to provide catering during your stay.  In this series of blogs we aim to introduce you to some of those culinary magicians.
Private Chef Clare Scott aims to create sustainable, tasty food with balanced nutrition.
Clare started doing ski seasons over 5 years ago and throughout those years, has worked in restaurants, catered for weddings, worked as a chalet chef during her early winter seasons.  Recently she has been a private chef for the worlds elite on the super yachts in the South of France.
She prides herself on her 'hands on' approach, building a bespoke menu with the group she is catering for, taking into account not only the foods they love but also using seasonal produce where possible.
Growing up in a household where food was central and with a mother who trained as a chef, Clare's love of food and cooking started from an early age. Always in the kitchen learning from her mother, she remembers vividly being taught how to make a roux.
'My mother believed that by teaching me and my siblings from a young age how to make a roux we could then make a white sauce and feed ourselves fairly inexpensively'
Although Clare follows a vegetarian diet and lists pasta puttanesca as one of her favourite dishes she emphasises her love of cooking meat for guests.
'I really enjoy cooking cuts of meat straight up. It demands process and a sort of respect. You can't rush it, you have to give it the time it deserves, bringing it down to temperature, precise heat and seasoning and allowing it the right resting time. There's nothing to hide behind and if you do it properly it will taste totally different. I still take pleasure in this process and it has taken me years to really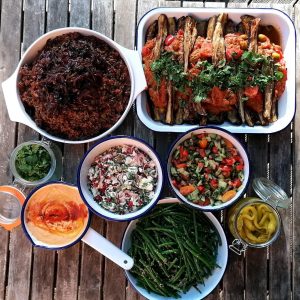 understand it'.
Influenced by chefs such as Ottolenghi and Anna Jones, Clare focuses on creating a menu that is vibrant in colour and full in flavour. As a passionate snowboarder and trail runner her aim is to provide her clients with a variation of foods to fuel the body whilst at the same time tantalising the taste buds.
In addition to flavoursome evening meals Clare also offers catering packages that include breakfast and afternoon tea. Your preference of wine is noted before your arrival and is paired to your menu choice.
Take a look at her example 5 day menu here:
Contact us directly to book one of Clare Scott or one of our private chefs during your stay with Elevation Alps.