Reviewed for Elevation by Giles Towler
Located right in the heart of town near the bottom of the Pleney lift and a stone's throw from some of the most popular bars in town (and right next door to L'Opera nightclub), L'Etale restaurant is a popular location for both lunch and dinner with locals and tourists alike.
The restaurant is open all day and has a varied menu with something to suit all tastes. As well as the traditional Savoyard dishes that everyone has come to expect from a trip to the French Alps – Raclette, Fondue, Tartiflette and Pierrade (hot stones allowing you to cook your own food at the table) -the restaurant also offers a good choice of pizzas and pasta dishes. There is also a good selection of steaks and other options such as confit duck leg. One particular speciality worth trying if you are a fan of steak is the Potence, a "tree" of steak, cut into little pieces, cooked the way you want, covered in whisky and set on fire!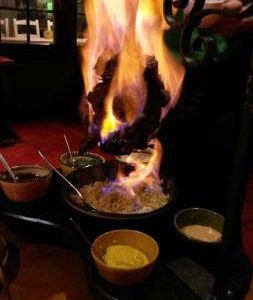 The quality of the food has remained consistently high over the years cementing the restaurants reputation as one of the most popular restaurants in town. The staff are also friendly and efficient.
The meals are well priced so that a night out will not break the bank. There is a good selection of wines to suit any budget as well as a well stocked bar. A tray of shots is also usually brought round to finish off a meal.
The restaurant itself is a good size, with extra seating downstairs and outside. However, booking is recommended during busy periods (such as Wednesdays, when many chalet staff have their evenings off and guests are left to fend for themselves). Large groups can be catered for but again it is advisable to book in advance to avoid disappointment.
The restaurant is child friendly with plenty of options for even the fussiest children.
L'Etale is highly recommended for a good night out with good food in Morzine.
L'Etale
Route du Téléphérique, 74110 Morzine
04 50 79 09 29