It is hard work to find a ski weekend or short break, and rare to find one in luxury self catered accommodation.  Elevation Alps in Morzine are committed to providing flexible and hassle free ski weekends and short breaks for any size of group.  Our new luxury apartments are perfect for groups of friends or corporate ski groups.
Why choose an Elevation Alps Ski Weekend or Ski Short Break?
Luxury Self Catered chalets and apartments right in the centre of town
Ensuite rooms with king size OR twin beds
Short transfer from Geneva airport to Morzine, just 80 minutes
Add any additional services you need to make the most of your time – transfers, chefs, wine and grocery deliveries, lift passes
Access to the biggest ski area in the Alps; the Portes du Soleil
Simple dates with simple pricing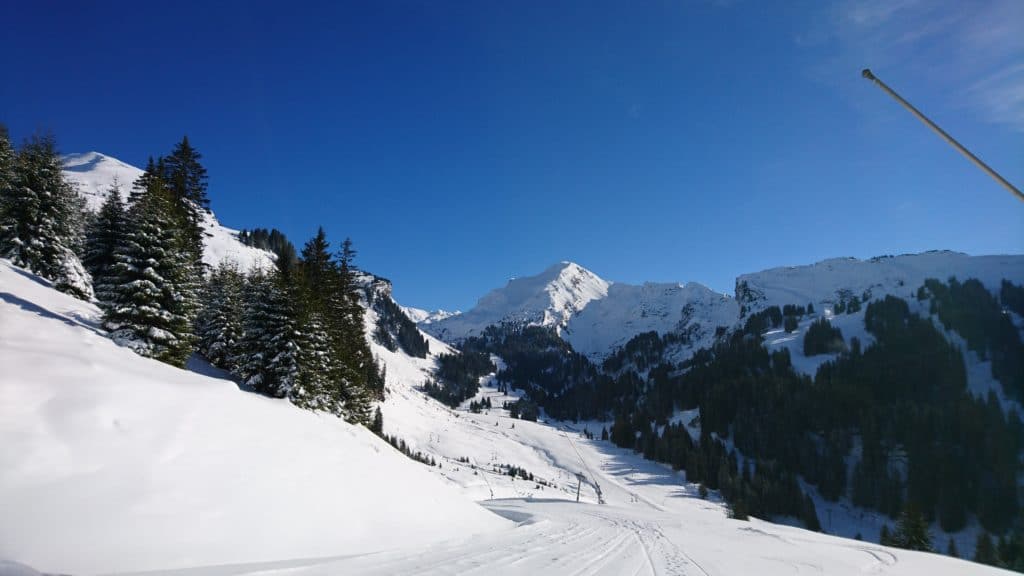 Ski Weekend & Ski Short Break Availability 2020
Our ski weekends and short breaks run for 3 or 4 days during off peak weeks, based on availability.
We have kept our pricing really simple – just a price for the whole chalet or apartment for the period of the short stay.  You can choose to add on transfers, lift passes or any of our other concierge services to the rental price.
We have released the following dates and properties, but if you don't find what you are looking for drop us a line*.  
See more about what is included at the bottom of the page.
How to book or enquire – email us at info@elevationalps.com or use our enquiry form
w/c 15th December 2019
Sun 15 Dec to Weds 19 Dec (3 nights)
Altaka 2, sleeps 8 – 3 nights €1,300
Weds 19 Dec to Sun 22 Dec (4 nights)
Altaka 2, sleeps 8 – 4 nights €1,900
w/c 5th January 2020
Sun 5 Jan to Weds 8 Jan (3 nights)
Altaka 4, sleeps 9 – 3 nights €1,500
Weds 8 Dec to Sun 12 Dec (4 nights)
Altaka 4, sleeps 9 plus hot tub – 4 nights €2,000
w/c 12th January 2020
Sun 12 Jan to Weds 15 Jan (3 nights)
La Constellation, sleeps 10 plus hot tub- 3 nights €2,000
Weds 15 Dec to Sun 19 Dec (4 nights)
La Constellation, sleeps 10 plus hot tub- 4 nights €2,900

w/c 19th January 2020
Sun 19 Jan to Weds 22 Jan (3 nights)
La Papillon, sleeps 8 – 3 nights €1,600
Chalet North Star, sleeps 11-13 plus hot tub – 3 nights €2.000
Wed 22 Jan to Sun 26 Jan (4 nights)
La Papillon, sleeps 8 –  4 nights €2,200
w/c 1st March 2020
Sun 1 Mar to Thur 5 Mar (4 nights)
Chalet North Star, sleeps 11-13 plus hot tub – 4 nights €2,700
*You can always book our properties for a full week and then come and go as you please.  We can accommodate mid week change overs for guests who are coming and going on different days.
What is included in an Elevation Alps Ski Break
Our short breaks include the same Elevation Alps luxury services as our full week holidays
The price includes:
Sole occupancy of the apartment
Meet and greet at the chalet to show you how everything works
Linen & Towels
End of stay clean
Welcome pack
Tourist tax is payable in resort; 2 euros per adult per night
You can personalize your booking by adding any of our concierge services:
Organising your return transfers to Geneva
If you would like a chef for breakfasts or dinners then this can be arranged.  This does not need to be every night.  Also the service can be altered to suit you from a dinner having been prepared and you would just need to put it in the oven to a chef at the chalet cooking a 3 course dinner in front of you
Shopping – perhaps there are some items that you would like us to get prior to your arrival
Wine and Beer delivery – we have a list of wines that I have chosen direct from the suppliers that you can choose from.  These are fabulous wines at prices that are a lot cheaper than Carrefour!
Ski and boot hire – all fitted at the chalet for your convenience upon arrival
Ski passes – ready for you at the chalet upon arrival.
Childcare – we can help organise a nanny, kids club and babysitting
Fresh daily bakery deliveries
More about our concierge services
More about an Elevation Alps Ski Weekend or Ski Short Break
With a short transfer from Geneva airport Morzine is the ideal resort for a quick ski getaway.   Getting to Geneva is easy too with hundreds of direct flights from the UK and elsewhere. You could be on a flight at breakfast and on the slopes by lunch time.
Our short break luxury chalets and apartments are all within 5 minutes walk of town.  It doesn't matter when you arrive, you can drop your bags and get onto the slopes.  We can arrange to have your ski passes with us when you arrive so you don't have to queue up at the lift pass office.
All our chalets and apartments are self catered with the option of adding any services you wish.  So you only pay for what you want.  Add transfers, private chefs, dinner deliveries, bakery and wine deliveries or have your cupboards stocked for when you arrive.  Time is of the essence when you are only here for 3 or 4 days, so let us take the hassle away.
Got a big group?  We have a number of apartments in the same residence so you book two or more to fit your big corporate ski group in.
Morzine is at the heart of the Portes du Soleil, one if the biggest ski resorts in the Alps.  From the village you can ski the Morzine/Les Gets side of the resort or the head to the high slopes of Avoriaz.   With a huge selection of pistes on both sides, all levels and abilities will find something for them.
Can't find what you are looking for?
If you have a larger group or want different dates, just enquire.  We will do everything we can to accommodate you.