Canyoning In Morzine – The Perfect Rainy Day Activity
Morzine and the wider Portes du Soleil area has so much to offer those looking for an adventurous summer holiday in the Alps. Canyoning in Morzine is the focus of this edition of our Summer Activity Guide.
For those not in the know, Wikipedia defines Canyoning as " travelling through canyons using a variety of techniques that may include other outdoor activities such as walking, scrambling, climbing, jumping, abseiling (rappelling), and swimming".  Morzine's  offering ticks all of those boxes and delivers the fun in a big way.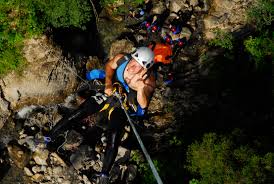 Taking The Plunge
The natural erosion of the rock caused by water flowing down the Nyon mountain over thousands of years has created the perfect canyoning route which is certainly not for the faint hearted. The initial 45m abseil into the gorge sets the tone then you'll  be expertly guided down to the valley floor, jumping into natural rock pools, sliding down a series of waterfalls and swimming and scrambling in between each section. Naturally canyoning is the perfect rainy day activity for any adventurous soul on holiday in Morzine.
Canyoning is a lot of fun but it involves nerves of steel and total confidence in your guide as there is very little room for error when jumping off the rocks into narrow pools and taking the right line down the natural rock flumes. The guides will first tell you then show you the best way to attack the obstacles before you take the plunge.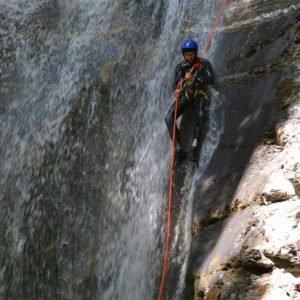 Slippery and Safe
Of course safety is paramount and there are multiple companies working the gorge and all have highly qualified and experienced guides who will be with you the whole time to ensure you're having fun in the safest way possible. They provide helmets, wet suits, harnesses and all the safety equipment but you must wear your own footwear and needless to say they will get soaked through. We also recommend you take a towel, spare shoes and warm clothes to put on afterwards, the canyoning companies have storage trailers at the bottom for you to store your clothes etc.
The Nyon canyoning tour takes around 3 hours and the guides provide transport to and from central Morzine making it very accessible. The price is around 50 EUR per person but there is however a minimum age for kids which is 12 years old. Check out our friends at Frogs Rafting for more information here
Stay With Us and Get in The Drink
So why not add canyoning to your to do list whilst you stay with us at Elevation Alps in one of our luxury Morzine chalets or apartments. If your interested in taking a look at our portfolio of exclusive Morzine accommodation click here  or contact us via email info@elevationalps.com .
P.S there's no better place to warm up after a day in the river than a bubbly warm hot tub!!