The Bec Jaune –  A Great Option For Vegetarians &Vegans
One of the best things about a self catered ski holiday in Morzine is having the flexibility to sample some of the fantastic bars and restaurants in the town. The Bec Jaune is definitely worth a visit especially if you are vegan or vegetarian.
The Bec Jaune is predominantly a brewery pub which brews a fine range of their own beers. However its not just the beers which get rave reviews as the food is also mouth wateringly good. Offering a completely different style of cuisine unavailable elsewhere in Morzine, the Bec serves up a wide range of vegan and vegetarian dishes (meat lovers are also well catered for).
You may have noticed the Bec as you drive into the centre of Morzine from the road on the way in. The big brass brewing kegs are visible through the windows giving a hint at the treasures within. Occupying the ground floor of a residential block just on the edge of the town centre the Bec is easily accessible on an evening.
By brewing its own beers the Bec is able to keep things interesting with an ever changing offering. They generally seem to have a stout of some description and an IPA on the taps which are complemented by their other beers and ales. Cocktails and wines are also available at the Bec, the range is sufficient but less varied than the beer selection.
Dining At The Bec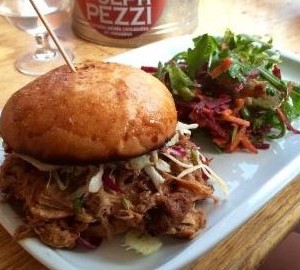 As well as being experimental with the beers, the team a the Bec like to keep the menu fresh too. The current incarnation of the menu is heavily dominated by deliciously healthy vegan and vegetarian dishes which were very well received during the summer.
It isn't the biggest of menus but most pallets are still  catered for with their selection of small plates, not so small plates and burgers. The dishes are very clearly labelled with all of the allergy and dietary information making it easy to make the right choice.
Highlights from the small plates section include gloriously lemony chicken wings, Roasted half cauliflower and beer battered pickles, Larger plate options such as the Asian inspired rice based glory bowls, bean chilli and spicy jambalaya dominate the main course options as well as the veggie or meat burgers. The menu is always accompanied by a specials board adding further options but the Bec does not offer desserts.
The Bec is definitely more of a bar than it is a restaurant with a more casual approach to dining. The staff are mostly English and are very knowledgeable about the menu, keen to offer up advice or recommend dishes based on dietary requirements. There is a relaxed and pleasant ambience in the bar and it's a great place to enjoy a casual evening meal. The Bec isn't the biggest of places and tables are limited so we recommend booking a table (0033 4 50 79 08 44 or email info@becjaunebrewery.com )
The Bec is located at 220 Route de la Combe a Zore just on the edge of the town centre up from the Super Morzine roundabout. Its easily reachable on foot from all of our Morzine accommodation. If you would like to view our range of self catered Morzine accommodation please click here