When looking at options for a ski resort, you would be wise to do your homework. Ski resorts offer lots of things that appeal to different people. For example, some resorts are regarded as party towns, while others are excellent for families. But the main reason you go to a ski resort is for quality skiing. We chose to move to Morzine for lots of reasons, but in this blog, we are here to answer the question of what is Morzine like for skiing?
The short answer is "excellent", but we will go into more detail about why you can have world-class skiing on a trip to Morzine.
Its Location
Morzine is located in France, but it is very close to the Swiss border. It is one of the 12 ski resorts that make up the Portes du Soleil, one of the world's largest ski areas, and it straddles both sides of the border.
You can easily access all the resorts from Morzine via the ski lift system. So, a ski trip to Morzine gives you a surprisingly extensive area to explore.
Isn't Morzine Too Low For Reliable Snow Cover?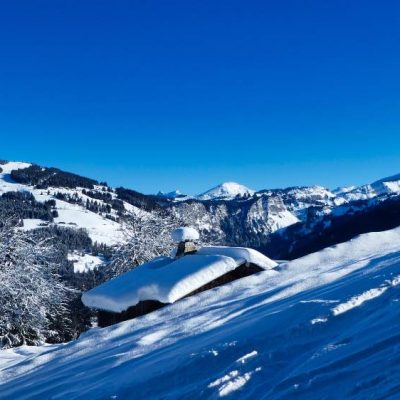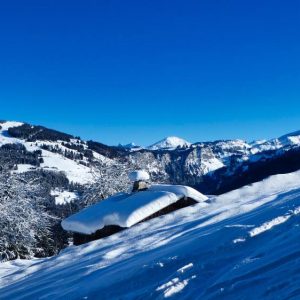 When someone asks what is "Morzine like for skiing?" They are wary of Morzine's reasonably low altitude and dismiss it in fear of the potential of lack of snow. However, you need not worry about it, as we get our fair share of snow.
Morzine's altitude of 1,000m does mean it has variable snow conditions; however, the stats may surprise you. For the 2018-2919 winter season, Morzine had 400cm of snow, and the following season had 424cm.
But, the Portes du Soleil is close to the Northern edge of the Alps, exposing it to north-westerly winds. These winds are often full of moisture; therefore, when the temperatures drop, so does the snow.
It is worth noting that the average snowfall in the Portes du Soleil is 700 to 800cm at 1,800m. The Tarentaise gets about 500cm at the same altitude and the Southern Alps 300 to 400cm.
In addition to this, Morzine's slopes are mainly grassy. Therefore, it doesn't need deep snow to keep them open.
On bad white-out days, you can enjoy sheltered tree runs all the way back down to Morzine village. Therefore, you can still enjoy excellent skiing when the weather is not so favourable. Failing that, you are never too far from a hot chocolate or vin chaud.
On those occasions when Morzine's snow is a little thin, you can still get to top-quality snow at higher altitudes. If you jump on the Prodains, Super Morzine or Ardent ski lifts, you can quickly get to Avoriaz at 1,800m and the rest of the Portes du Soleil.
The Main Ski Lifts From Morzine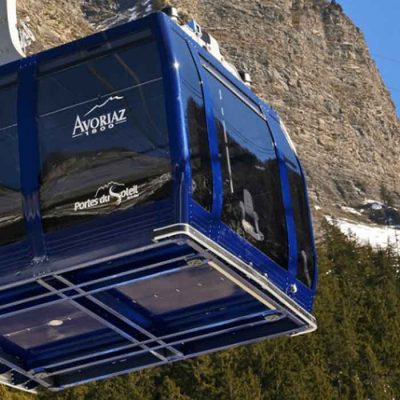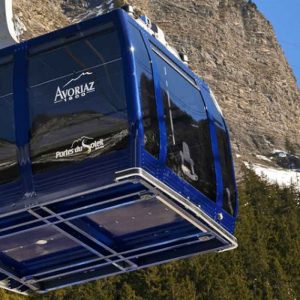 Morzine has five main ski lifts that allow you to access the different areas easily. All of the lifts are serviced by a free shuttle bus to make life even easier.
Pleney
The Pleney lift is a large modern telecabine that takes you to Morzine's ski slopes. If you are a complete first-time skier or snowboarder, Pleney is an excellent option. You simply walk onto the lift, which gives you access to Morzine's beginner area and some lovely tree-lined blue pistes. 
Pleney also has some more challenging red pistes for those who want to challenge themselves. But, all the pistes on the front side of the mountain finish back at the Pleney telecabine.
You can also access the Nyon area from the Pleney lift. But, if you head in the other direction, you can explore the neighbouring resort of Les Gets.
Nyon
The Nyon lift is a large old-fashioned cable car. It takes you some nice wide blue and red pistes. These runs link to Pleney and Les Gets, so there is plenty to explore on this side of the valley. Each winter, there is something new to see and do on Nyon. For example, the huge viewing platform at the top, a boardercross course, and more recently, skiing while eagles follow you down the slope!
More advanced skiers and snowboarders can head to the freeride area. This is a patrolled and monitored off-piste area, which is fantastic on a powder day. But, you still need to carry the appropriate avalanche equipment and the know-how to use it.
The Pointe de Nyon is the mountain that overlooks Morzine. It has some long pistes, perfect for blowing out the cobwebs. On a clear day, the views from the top of Pointe de Nyon include Mont Blanc in one direction and Lake Geneva in the other.
Super Morzine
On the opposite side of the Valley from Pleney is the Super Morzine bubble lift. The lift takes you in the direction of the higher resort of Avoriaz via the Zore and Proclou chairlifts. But on the way, you can play on some easy blues and greens. If you take this route, you are on snow much more quickly than the other routes.
A unique area you will find here is the 'Lil Stash. This is an area designed for kids, with lots of fun features. However, you don't have to be a kid to enjoy it, as it has jumps, rails and boxes that are not too intimidating. These are perfect for practising your freestyle skills. The 'Lil Stash is also home to Shreddie. Shreddie is the local yeti, and you can ski through his tree-top house!
The Super Morzine lift is a very convenient way of getting to Avoriaz from Morzine. However, if you want to get first tracks on a powder day, you may want to jump on the bus to Ardent.
Ardent
Ardent is another bubble lift, but this one is just a short drive or bus trip (take the "M" bus) through Montriond. The lift takes you directly to Linderets, a vast bowl that acts as a hub to access more of the Portes du Soleil.
Linderets has lifts that take you to Chatel, Avoriaz and up to the Swiss border. This area has many excellent blue runs to enjoy, including one known locally as "Star Wars", a long blue piste that takes you back down to the Ardent bubble. But more importantly for many, it runs all the way to the Happy Hours Après bar. Happy Hours is very popular, and it gets particularly lively on Wednesdays, which is most seasonaire's day off.
Heading up the Chaux Fleurie chairlift from Linderets gives you access to Chatel. Chatel has some lovely pistes for beginner and intermediate skiers and snowboarders.
Chatel is great if you like a long and fast blast. It is home to a great run called Linga, a reasonably steep red. Be aware that Linga can be pretty icy in the mornings until the sun has warmed it up a bit. There is a more gentle blue piste running alongside it that is less intimidating, though.
Linderets is the starting point for the Portes du Soleil circuit. This is a popular route that takes you through all of the resorts in the area. If you fancy doing the circuit, we recommend starting early in the day so you don't have to rush to get the last lifts. Also, make sure you do it on a good weather day, it is much more pleasant, and you won't get stranded in the event of lifts closing.
Prodains
The Prodains lift takes you directly into Avoriaz. You can drive to the bottom lift station, but you will need to pay for parking. Alternatively, jump on the "A" bus that drops you right outside the lift.
Once at the top of Prodains, you can enjoy everything Avoriaz has to offer. It has long and wide pistes, suitable for beginners and intermediate skiers and snowboarders. But, there are some excellent red and black pistes for those who are more advanced.
Avoriaz also has the "snowcross" area, which is similar to the freeride area accessible from Nyon and Pleney. Again, even though it is a patrolled, un-pisted area, you should not ski it without avalanche equipment.
The Prodains home run is a long blue that runs all the way from Avoriaz. It is lots of fun and a good way to finish your legs off at the end of the day. At the bottom of the home run, you can enjoy relaxed après drinks while you wait for the bus back to Morzine.
Get Creative While Skiing In Morzine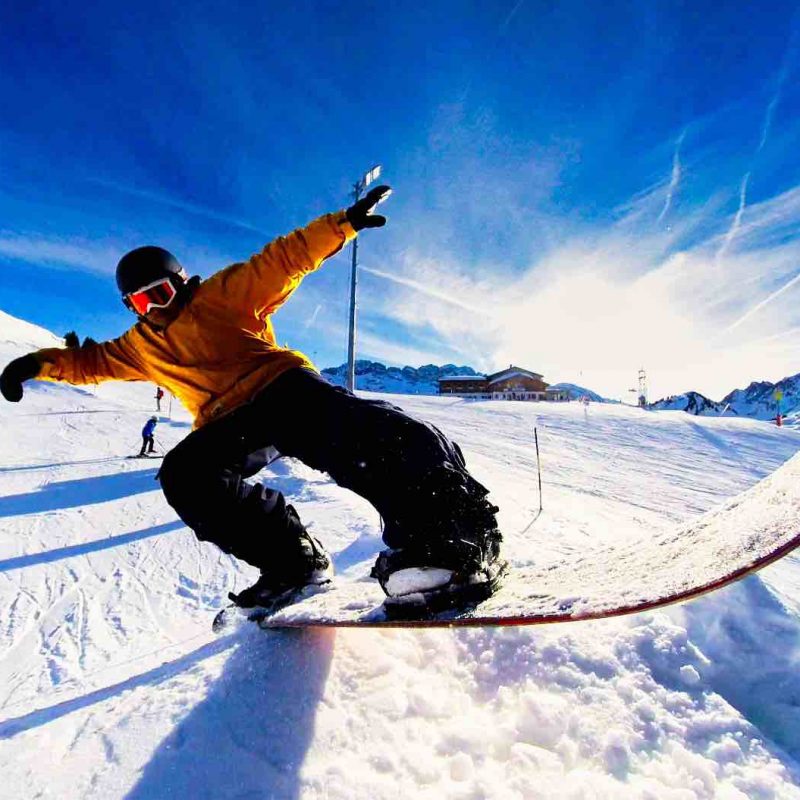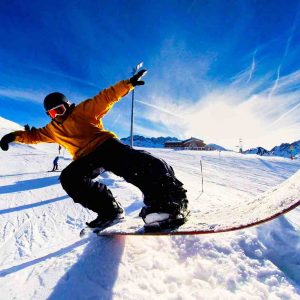 When you ski on the Pleney side of the valley, you can mix up your day. You can stay on the tree-runs or head over to Les Gets or Nyon for different experiences.
Super Morzine, Ardent and Prodains are all accessible from each other. Therefore, you can start your day in one area and finish it in another.
There are also many places to hone your freestyle skills. We have already mentioned the 'Lil Stash for kids, but the Linderets is home to "The Stash". The Stash is a huge snow park built from natural materials in the forest. Here, you can hit a range of features, such as a large picnic bench, log slides and boxes. 
Avoriaz also has the Chappelle snow park, just below the Linderets chairlift. The park is very well maintained and full of features that change every month or so. The features and jumps range in difficulty from green to black, so there is something for everyone.
Each of the Portes du Soleil's resorts has snow parks, so why not try them out as you visit each one?
Beyond Morzine On The Snow
As we mentioned before, you can ski in to Switzerland if you have a full area lift pass. A day of skiing in Switzerland is worth doing for many reasons. You will notice that the slopes are a little quieter, especially during the school holidays. The terrain is slightly different over the border too, which mixes up your skiing trip.
One way to get into Switzerland is to jump on the Mossettes lift from Linderets and head to the Swiss Wall. The Swiss Wall is an incredibly steep un-pisted slope that drops into the Swiss resort of Les Crozets.
The slope has a gradient of about 40 degrees and is covered in moguls. At the top, moguls can easily get to the size of a car. But once you get past the first 50m, the gradient starts to mellow, and the moguls get smaller. The Swiss Wall is for experienced skiers and snowboarders only. Still, you can download on a chairlift if you don't fancy tackling it. Luckily there are many other ways to drop into Switzerland that are much easier and more accessible.
What Is Morzine Like For Skiing? – Answered!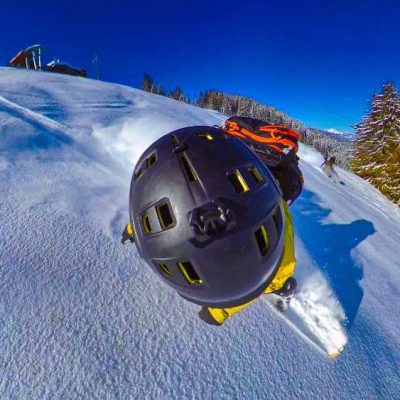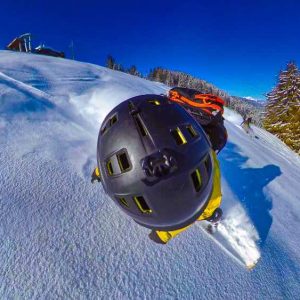 As you can see, Morzine is an excellent destination for skiers and snowboarders. There is plenty to do, no matter what your skill level or experience.
When you combine excellent nightlife, a family-friendly atmosphere and quality self catered apartments and chalets, Morzine meets many people's needs and requirements.