For those of you who love water based summer activities and enjoy adrenaline filled water sports white water rafting is something you must try this summer in Morzine.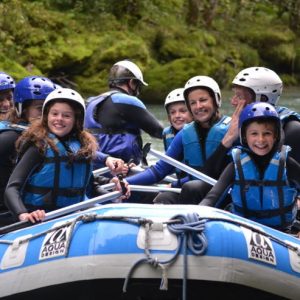 Which level of White Water Rafting is right for you?
There are 3 different levels of rafting you can do:
The Classic 8 yrs +,
The In Between 12 yrs +
The Pro 16 yrs +.
Most of the rafting trips take place on La Dranse river but if you're looking to get further out of town and see somewhere new there is also an option to raft down Le Giffre river starting in Sixt fer a Cheval and finishing in Samoens.
If you have children who are aged between 6 – 8 years, there is also a Beginner 6 yrs + rafting option on Le Giffre.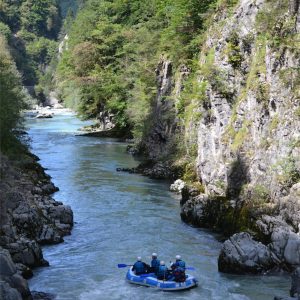 ---
Frogs Rafting have highly qualified, bi lingual instructors who will collect you from their designated car park (around a 15-minute drive out of Morzine) and take you to the starting point. You will be provided with all the necessary equipment including a wet suit (yes even in the summer the water can be cold), helmet, boots, a life jacket and a paddle. Once you arrive at the starting point your instructor will give you a quick safety brief including some paddling techniques and off you go.
How long will my White Water Rafting trip last?
Your time on the water ranges from 1 hr 45 mins to 2 hr 30 mins depending on which difficulty level rafting you choose and the trip itself includes a whole lot more than just rafting. Your instructor knows the river inside out, so you will be given the chance to play in the water and take part in some rock jumping.
If you choose to do the Pro rafting trip you will also have the opportunity to experience some Grade IV rapids and experience the dramatic boulders of the River Dranse.
Prices
Prices range from €36 – €60 per person depending on which level you are. You can either pre book before your holiday or when you arrive / during your stay in Morzine.
For more information give us a call on +33 (0) 9 67 67 08 38 or to book call Frogs Rafting directly on +33 (0) 609 308 077.