Snowshoeing On Mont Chery in Les Gets Offers One Of The Best Views In The Portes du Soleil
Snowshoeing on Mont Chery provides incredible wintry vistas across the alps towards Mont Blanc. This route uses the Mont Chery gondola to gain most of the elevation and is an undulating snowshoe trail which passes through a mix of stunning Alpine forest  and snow covered meadow.
Les Gets is a short drive from Morzine so this route does require slightly more effort to access. There is a local bus that goes between Morzine and Les Gets which runs between the Super Morzine roundabout and the Mont Chery lift station. The bus is 1.50EUR each way and runs regularly throughout the day.
From the top of the Mont Chery gondola take a left out of the station where you'll be greeted by the first of many amazing views as the mountains open up in front of you. Once you've taken it all in, take the top  track to your right (as you look down the hill). This will lead you through a mixture of stunning snowy forest and alpine meadow all the way to the picturesque hamlet of Mont Caly. The trail undulates along the route with ups and downs but there is nothing too strenuous.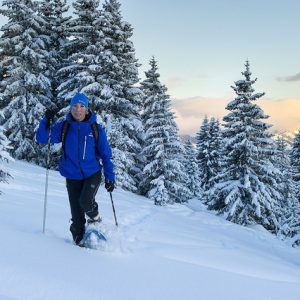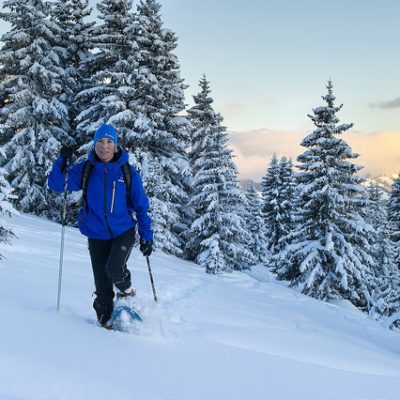 Lunch Anyone??
When you reach the quaint hamlet of Mont Caly, you'll find a wonderful restaurant called Les Chevrelles where you can take a break on their lovely sunny terrace to sample some hearty Savoyard cuisine and a well deserved drink before heading back on the lower trail back to the lift station. The lower trail has a mixture of wider marked track and tighter single track through the forest.
Each leg of the walk will take you just over an hour,so make sure you leave enough time to get back before the lift closes (you can obviously take the same upper track back if you prefer to stick to what you know).
Safety First
A few safety tips: Always take a map and plan your route properly. The route ideas will contain errors, as the snow conditions and signage changes frequently. If you are not confident in the mountains hire a guide. The alps are a tough environment, you should always prepare for bad weather and always tell someone where you are going with an expected return time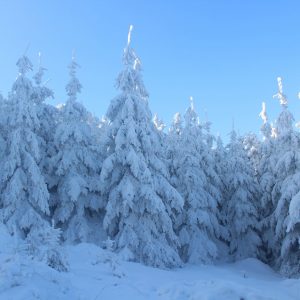 Click here to see more of our favourite snow shoe routes in the area.
And what better way to rest those tired feet than soaking in the  hot tub of your luxury central Morzine self catered chalet or apartment. If you haven't yet booked your Morzine accommodation then please drop us a line using the contact us form or browse through our exclusive portfolio of luxury Morzine self catered chalets and apartments here