Hike Around Lac Montriond 
If you're looking for a relatively easy, flat walk in Morzine  with a stunning backdrop then a hike around Lac Montriond comes highly recommended.
Lac Montriond is a stunning alpine lake set in a stunning steep sided valley and is also the perfect spot for a summer swim. There is parking at either end of the lake so you can choose which end to start/finish and the loop is flat and approximately 3.5km. The walk skirts around the water's edge and it should take you around an hour and a half to complete (depending on how long you spend taking it all in or having a cheeky dip). Swimming, sup'ing, kayaking and canoeing can also be done on the lake should you fancy it. There are restaurants at either end of the lake for a refreshment stop and the terrace at Le Bout du Lac at the far end of the lake offers fantastic views.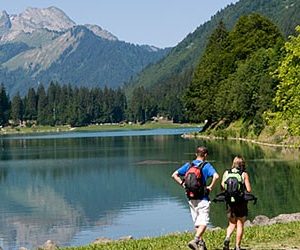 Do Go Chasing Waterfalls
From the far end of the lake if you look towards the sheer rock face to your left you can see a waterfall that flows down into the lake. During the winter months this freezes over and is a popular spot for ice climbing.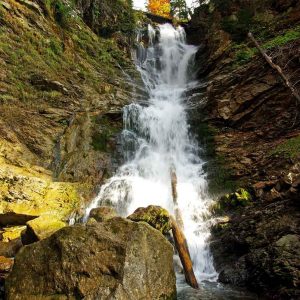 Find The Second Waterfall
If you've still got gas in the tank then you can extend the walk around the lake by taking the path at the far end (the end where Le Bout du Lac is) which will take you up a peaceful valley and up to the top of the Cascade d'Ardent waterfall. There is a bridge across the top of the waterfall where you can feel the rush of the water beneath you. This will add a further 45 minutes in each direction to your walk but the waterfall is very pretty. 
And what better way to end a days hiking than soaking up the evening sun from the terrace or hot tub of your luxury central Morzine self catered chalet or apartment. If you haven't yet booked your Morzine accommodation then please drop us a line using the contact us form or browse through our exclusive portfolio of luxury Morzine self catered chalets and apartments here
To see more of our favourite hikes in Morzine click here