Hiking Mont Chery Offers  One Of The Best Views In The Portes du Soleil
Les Gets is a short 7 minute drive from Morzine and also offers a wide range of summer alpine activities. The Mont Chery side of the valley has fantastic views so make sure if you choose to do this route to go on a clear day. The path is undulating but relitively easy and meanders through forest and alpine meadow.
When hiking Mont Chery we recommend parking at the base station of the Mont Chery ski lift in Les Gets and taking the lift up the mountain (free if you have the multipass). At the top of the lift  turn left and head down to the view point where you'll be greeted by one of the best views in the Portes du Soleil with the dramatic Mont Blanc mountain range in all its glory in the distance.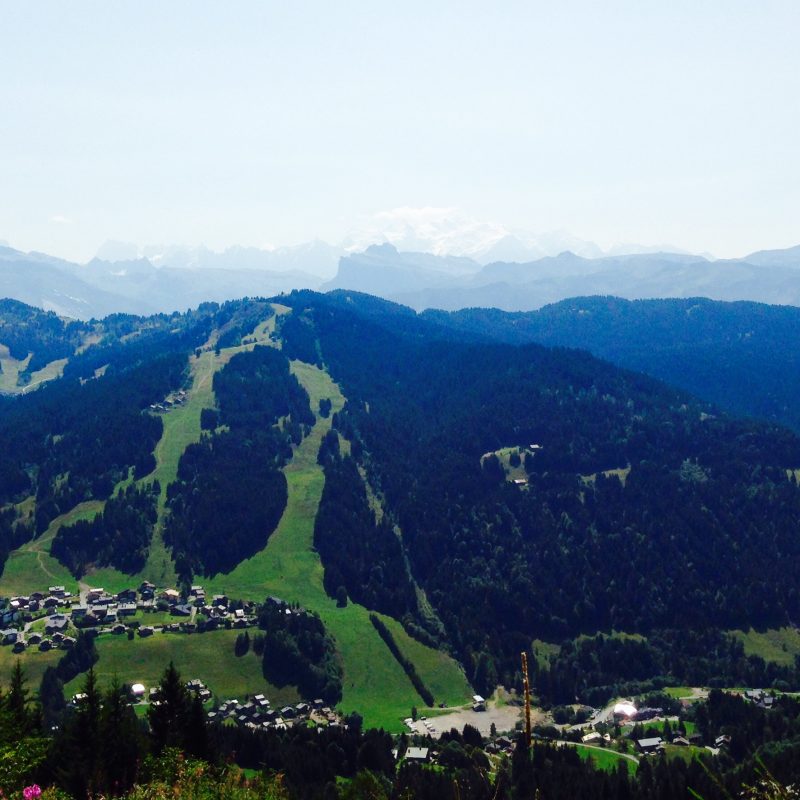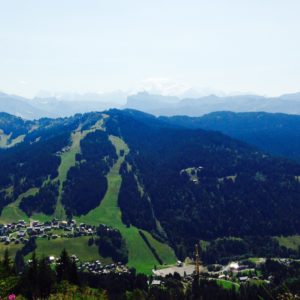 Taking the top fire track to your right (as you look down the hill) will lead you through a mixture of forest and alpine meadow all the way to the picturesque hamlet of Mont Caly. The trail undulates along the route with ups and downs but there is nothing too strenuous and it is fire track the whole way. The spectacular view remains in sight for a lot of the way and it's hard to remember to look where you're going as the view seems endless and impossible to take in. 
Enjoy a Traditional Savoyard Lunch Stop Whilst Hiking Mont Chery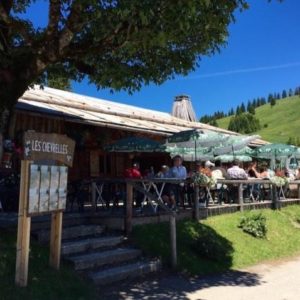 When you reach Mont Caly, you'll find a wonderful restaurant called Les Chevrelles where you can take a pit stop on their lovely sunny terrace to sample some hearty Savoyard cuisine and a well deserved drink  before heading back on the lower fire road back to the lift station. Each leg of the walk will take you around an hour to complete so ensure you leave enough time to get back before the lift closes (you can obviously take the same fire track back if you prefer)
Fancy Something A Little More Challenging?
There is  also a more challenging loop with a lot more ascent which starts at Mont Cally if your looking for a little more of a workout. If you drive through Les Gets and bear right at the Perrier roundabout and follow the road all the way up to Mont Caly and park by Les Chevrelles restaurant. From here take the track to the left just past the restaurant and follow the track straight up which will take you up and over the summit of Mont Caly up to the summit of Mont Chery. This walk is mostly uphill with a few sections which are quite steep but the 360 degree view from the viewpoint at the top of Mont Chery are superb and well worth the effort.
And what better way to end a days hiking than soaking up the evening sun from the terrace or hot tub of your luxury central Morzine self catered chalet or apartment. If you haven't yet booked your Morzine accommodation then please drop us a line using the contact us form or browse through our exclusive portfolio of luxury Morzine self catered chalets and apartments here
Click here to see more of our favourite hikes in the Portes du Soleil