We think that Morzine is the pefect resort for group ski holidays and Elevation Alps luxury self catered apartments and chalets are the perfect provider.  If you ski or snowboard then you have probably been on or even organised a ski holiday for a group of mates.
Planning a group ski and snowboard holiday can be hard work. Organising your group can be like herding cats, especially when your group comprises people with different abilities and needs. Your first task is to choose between a whole host of ski resorts in many different countries. But every winter, lead bookers choose Morzine for group ski holidays for lots of reasons.
In this post, we will break down all the reasons why Morzine is an excellent destination for group ski holidays.
1. Great Selection Of Slopes For All Levels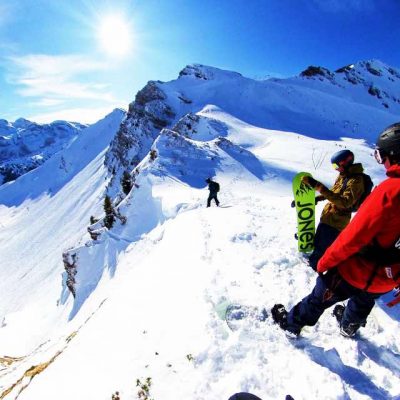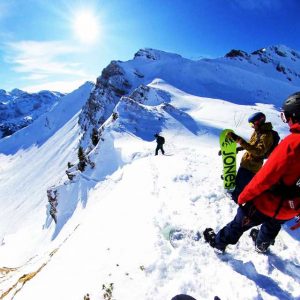 Morzine sits in the Portes du Soleil, which is one of the world's largest ski areas. Therefore, the vast amount of terrain available provides skiers and snowboarders of all levels with the perfect slopes and possibilities for adventure.
Many people learn their first turns on Morzine's nursery slopes. Thanks to their gentle gradients and beginner-friendly lifts, these slopes are the perfect introduction to skiing and snowboarding.
Those who have found their snow legs can progress on to the area's fantastic blue runs. In fact, most of the runs around the Portes du Soleil are blue, making exploring well within most people's abilities.
Intermediate skiers and snowboarders can enjoy the wide range of the Portes du Soleil's fantastic red pistes. These long and wide slopes are generally quieter than the blues, so you can get some speed up and blow out the cobwebs. Carving early morning corduroy on a sunny day is a real treat on these red runs.
Morzine and the rest of the Portes du Soleil are also great for more advanced skiers and snowboarders. There are some excellent black pistes to challenge your skills. For example, the Swiss Wall from Avoriaz has a gradient of up to 40 degrees and moguls the size of cars!
When you stay in Morzine, you have access to world-class snow parks, such as The Stash and the Chappelle park. These are meticulously looked after and offer unique features allowing you to get creative with your freestyle riding.
Morzine and its surrounding areas also have incredible off-piste. Some are very easy to access from the lifts, while others require more effort. If you book an instructor or a guide during your stay, they will take you to the best spots so that you can claim fresh tracks and bragging rights.
One of the things we love about skiing and snowboarding in Morzine is that you can progress and have lots of fun. Whether you want to perfect your parallel turns, work on your freestyle or just have fun, there is somewhere to do it.
2. Après And Nightlife For Everyone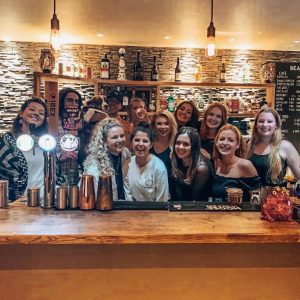 After a day on the mountain, there is nothing better than a drink or two. Morzine is well-renowned for its après scene. But it can be as relaxed or as bonkers as you want it to be.
Many bars in Morzine have a happy hour that starts at 4 pm. Lower priced drinks and live music create a great atmosphere to celebrate a fantastic day.
For chilled out drinks in a pleasant atmosphere, head to Le Coup De Coeur or Beanies. For great tapas, beer and cocktails, why not drop into Haka? A firm favourite après bar is Bar Robinson (known as Robbo's to the locals). Robbo's serves the infamous Mutzig lager; it is particularly potent, so go careful with it!
The mountains are dotted with bars and restaurants, so your après session can start on the mountain too. A great example is the world-famous La Folie Douce in Avoriaz. Here you can be entertained by a cabaret act made up of singers, dancers and musicians. La Folie Douce is a raucous experience everyone should have at least once.
Another favourite après bar is Happy Hours, which is popular with seasonnaires. Happy Hours is located at the bottom of the Ardent lift and features DJs, scary cocktails, great food and a party atmosphere. Its location means you can easily get back to Morzine on the bus.
3. Fantastic Selection Of Restaurants And Dining Options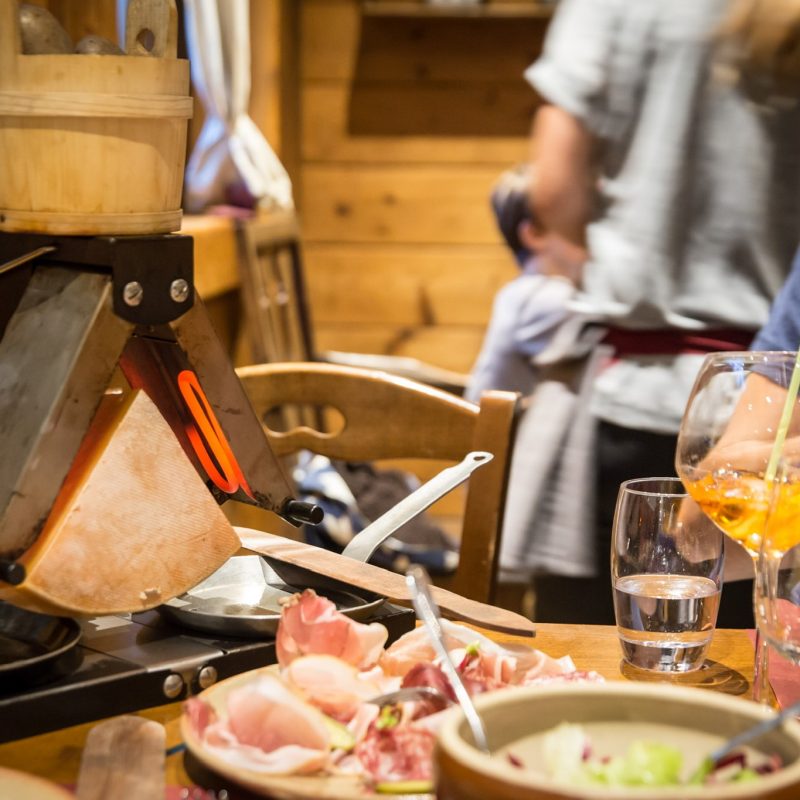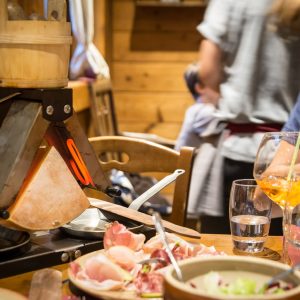 When it comes to dining, Morzine has options for pretty much anyone in your group. There are many fantastic traditional style Savoyard restaurants, such as La Grange, La Rotonde, and Le Clin D'Oeil. These serve local specialities such as fondue, tartiflette, raclette and steaks.
But, in recent years, Morzine has seen many restaurants opening with alternative cuisines, while others have expanded their menus. For example, Beanies serves some excellent curries, pizzas and specials. There are a few Italian restaurants now and many places to eat gourmet burgers.
Vegetarians and Vegans love to dine at the Bec Jaune, Morzine's micro-brewery, while the late risers can enjoy a fantastic brunch at Le local until 3 pm.
When you stay in self catered accommodation in Morzine, you can obviously cook for yourselves. However, Morzine has a superb range of private chefs. Whether you want a one-off experience or a customised menu for your entire week, there is a private chef to suit your needs. You can book a chef for both breakfast and evening meals.
Private chefs can be as involved in your evening as you want them to be. If you want your chef to simply cook and leave you to it, that is fine; alternatively, they can become a part of your evening.
Check out our page on catering for more information on booking a private chef.
4. Proximity to Geneva Airport
Being just 80 minutes away from Geneva airport means that transfers to resort are quick and easy.  It is likley that your group of mates will be flying in from different places, so you need an airport that everyone can book a flight to.  Geneva is a big internation airport with loads of flight options.  If you are all arriving at different times you can book good value transfers to resort individually with our partner Skiidy Gonzales
5. Superb Accommodation In Morzine For Group Ski Holidays
At Elevation Alps, we offer fully flexible holidays, giving you total freedom to create your perfect ski holiday in Morzine. We have handpicked our properties based on their exceptional location, layout, finish and features.
Our wide range of luxury self catered Morzine chalets and apartments are close to the lifts and everything the village has to offer. Therefore, you get comfort and convenience all in one luxury package.
After a great day skiing with your group in Morzine, having somewhere comfortable to relax makes all the difference. Therefore, the chalets and apartments' layouts have been carefully designed to create a stylish and laidback ambience. Also, most of our self catered chalets and apartments have private hot tubs or saunas.
Most of our self catered chalets and apartments have flexible bed set ups meaning that most bedrooms can be made as double or twins, ideal for same sex groups.
Our concierge services make the difficult job of organising a group much easier.  Just tell us what you need; liftpasses, transfers, groceries, wine, bakery deliveries or evening meals and we will organise it for you.
Our booking system allows everyone to pay for themsleves.  So you don't have to stump up the whole  amount and then organise collecting it.
Final Thoughts On Morzine For Group Ski Holidays
Whether on the mountain, in the village or in your luxury accommodation, Morzine is excellent for group ski holidays. It ticks lots of boxes for many people; therefore, there is something for everyone.
For more information on Morzine, check out our blog page for updates. Alternatively, if you want some advice on choosing Morzine for group ski holidays, contact us, and we are only too happy to help.