Does your perfect ski chalet need a hot tub?  For many of our guests, the answer is yes.  Over half of our chalets and apartments come with the private use of a sparkling clean and perfectly maintained hot tub.  Find out more about how we care for our hot tubs below.
Hot tubs, spas, Jacuzzi – what ever you call them they are a very popular addition to a ski or summer holiday.  The therapeutic benefits are real; a relax in a the hot circulating water really does ease those tired legs after a days skiing or cycling.  Plus it feel very indulgent to be sat in steam water while all around you is snow.
But hot tubs need to be maintained with care to be inviting and safe.   We take this very seriously at Elevation Alps and we rightly proud about the condition of our chalets hot tubs.
We clean and refill our hot tubs for every guest meaning on arrival, the water is 100% fresh for you.  We will visit twice more during the week to check the tub and will manage the chemicals accordingly.
Because it is fresh water for your stay, we can keep any chemical intervention to a minimum.  And we choose the softest of chemicals we can.  Your usage of the hot tub will affect the water – treat it with care and the less chemicals we need.
It is important to note on booking that on the last day of your stay we will clean, empty and refill your hot tub for the following guest, so the it will be out of use.
All our chalets hot tubs are private and for your sole use.  Our processes match and exceed the regulations required for hot tubs during the Covid pandemic.  For more about the additional Covid procedures we have put in place click here.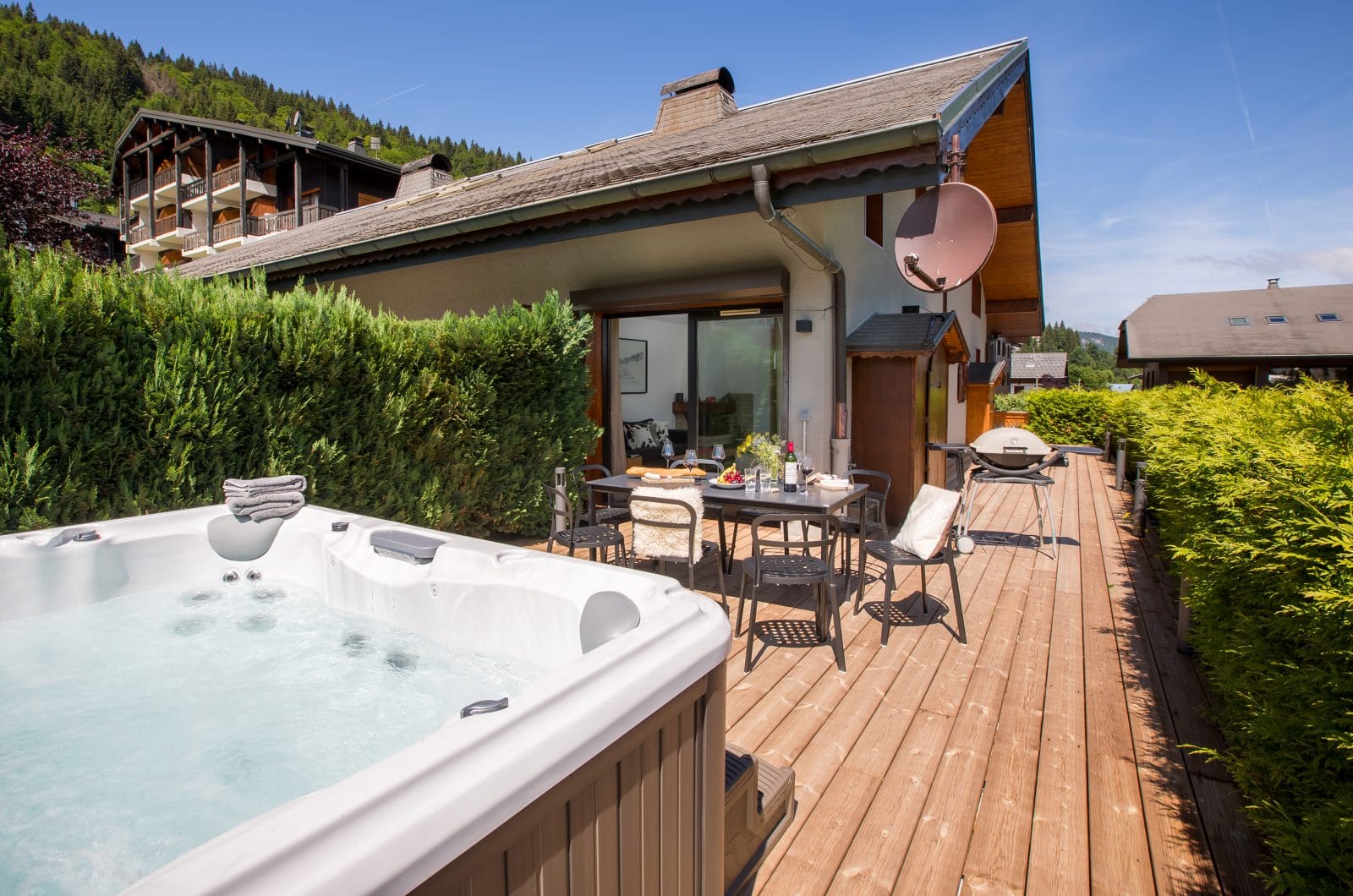 Chalets with hot tubs
About half of our properties of hot tubs, so there are plenty to choose from.   We even have a 3 bedroom apartment, Altaka 1, with a hot tub which we think is the smallest property in Morzine with its own private use tub.
Below is a list of all our properties with hot tubs
3 Bedroom properties with hot tubs
Altaka 1
Chalet V
4 Bedroom properties with hot tubs
La Constellation
Joli
Altaka 4
Ferme Colline D'En Bas
Loup'ka
5 Bedroom properties with hot tubs
Chalet Kapa
Chalet Dranse
Mont Des Anges
Chalet North Star
Chalet L'Albatross
6 Bedroom properties with hot tubs
Chalet L'Anton
Mesanges A
Mesanges B
Mesanges C