The Crapahute in Morzine Offers A Unique  Dining Experience
The Crapahute in Morzine really does offer something a little different. If you're looking for an evening out with great food, exceptional entertainment all topped off with a sledge ride then the Crapahute is the place for you.
Run by owner and local personality Mark Dalton, the Crapahute is located at the far end of the secluded Vallee de la Manche. Serving up hearty Savoyard classic cuisine, the Crapahute really is a hidden gem.
The  restaurant is open for lunch serving basic crepes and omelettes and has a lovely sunny terrace. However its during the evening when the Crapahute really comes into its own. Due to its fairly remote location, getting to and from the restaurant is all part of the experience. 
The Crapahute restaurant is a small wooden chalet in the middle of the snowy forest at the far end of the Vallee de la Manche. With its tranquil location and roaring open fire it provides the perfect venue for a unique dining experience.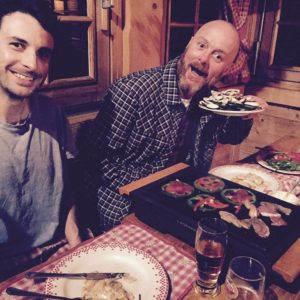 The Food
For evening meals the restaurant must be booked in advance and on an exclusive basis (minimum of 10 guests, maximum of 25). Drinks and a two course meal are included and the price is around 40EUR per person. The menu is fairly limited however the food is wholesome and plentiful and you'll not be left wanting. Traditional Savoyard dishes Pierrade, Tartiflette, Fondue and Raclette are all on offer and the perfect cuisine to be enjoyed in the cosy alpine venue.
Traditional desserts such as Tarte Tatan follow the main course and Mark who is a wonderful host, compliments the after dinner drinks with fun games and party tricks getting everyone involved.
Sledge Back Down To Civilisation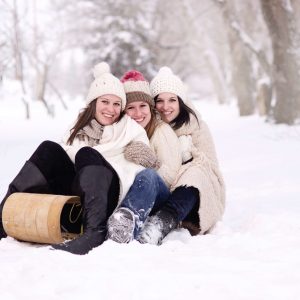 Normally when you leave a restaurant that's the end of the fun, not the case at the Crapahute! The restaurant enjoys an elevated position which provides the perfect opportunity to embrace gravity and slide your way back down to civilisation on sledges. As much fun as this is we recommend you make sure your dinner has gone down before you sledge!!
Practicalities
To Prebook its best either to pop in during the day or speak to the Elevation Alps concierge team who can provide you with the contact for Mark
To get up to the Crapahute the best option is to take the E bus from the Pleney in central Morzine which runs at a quarter past the hour, every hour (09:15 -12:15 / 14:15-19:15). Getting off the bus at the last stop, L'Erigne (you'll know your there as its literally the end of the road) and follow the piste uphill through the forest. Snowshoes are recommended when there has been recent snowfall. After about 15/20 minutes you'll reach the restaurant and you'll more than likely hear it before you see it as Mark plays music to help you find it.
Getting back to Morzine after the meal can be a challenge but we recommend you pre book a taxi to pick you up from L'Erigne. Getaway Vans offer an evening taxi service and can be reached on 0033 684517616
If you haven't yet booked your Morzine accommodation then please drop us a line using the contact us form or browse through our exclusive portfolio of luxury Morzine self catered chalets and apartments here