Week Commencing Saturday 11th April 2020 – Weekly Events Schedule
Every week throughout the winter season Morzine puts on a whole host of weekly events to keep you entertained when you venture down off the hill. It's the last week of the season and it's Easter week so there's plenty of festivities going on and lots to keep the kids entertained when they are not on the slopes.
Here's what's going on throughout the week:
Saturday 11th April 2020
For the Easter weekend from Saturday to Monday inclusive there is a whole host of fun and games for the children at the village square by the tourist office from 10am until 6pm. Multiple inflatable assault courses and wooden games  will be available free of charge.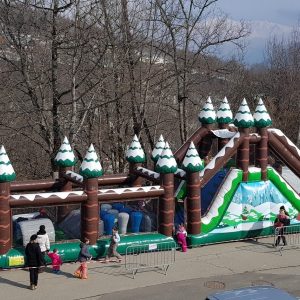 Carpentry Workshop For Children – 16:00 – 18:00 at the tourist office. Let the little one's earn their keep as hey learn some basic carpentry skills and get to cut the wood using machines (under supervision of course) Free entry and they get to keep their work and take it home as a memento.
Welcome Drinks – Head to the tourist office between 16:30-18:30 and enjoy a welcome drink. Green chaud is Hot Chocolate with green Chartreuse to warm the cockles and there is also local cheese to try from the l'Alpage dairy and candy floss for an extra 2EUR
Sunday 12th April 2020 (Easter Sunday)
Easter Egg Hunt –  If you have children aged between 2 and 6 then get them down to the tourist office at 10am for a free Easter egg hunt.
Face Painting For Children – 2EUR per child at the tourist office between 14:00-18:00
Drone Battle Game – pilot a drone and battle against other pilots. At the tourist office between 16:00-18:00
Monday 13th April 2020
Creative Workshop with Wood – at the Palais des Sportes (under the Super Morzine bridge) between 14:00-18:00, children aged 6 upwards can go along for free and make a wooden piece of art to take home.
Laser Tag – Dress up as superheros and play laser tag with your friends and family. Free to play at the tourist office from 16:00 – 18:00
Tabarsnack family show – light hearted childs entertainment with juggling and magic. Outside the tourist office from 6pm (free to watch)
Wednesday 15th April 2020
Local Market – Every Wednesday morning from 8am- 12:30pm Morzine hosts a wonderful market in the Carrefour/post office car park. Local producers come from the surrounding villages with the best meats, fruits, vegetables and cheeses available.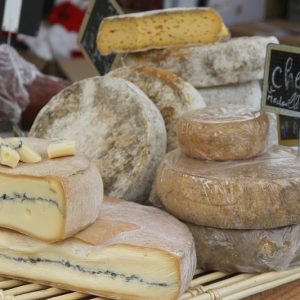 Tour Of The Fish Farm – Head to the fish farm along Route des Ardoisieres (the road up to the Prodain lift station) at 15:00 for a guided tour of the local fish farm. 
Thursday 16th April 2020
Cheese Dairy Tour – Every Thursday between 9-10am the local cheese dairy opens its doors to the public. The tour of the dairy will show you how the local cheeses are made and you'll of course have the opportunity to try and buy the cheeses. (also possible every Wednesday 9-10am). The dairy is located on Route de la Plagne just past the Super Morzine roundabout at La Fruitière l'Alpage