Les Vents d'Anges is a unassuming little place in a corner of the Mairie square.  Inside it is slightly bigger than it looks, but you would still call it cosy and intimate.
It classes it self as french cuisine but you won't find just the standard Savoyard fare as there are plenty of more worldly flavours fused in.  I had a scallop starter with a fresh and zingy Thai-like sauce which was delicious.  The menu is carefully chosen with plenty of fish options and a good selection of specials.  The starters we chose on the small side, especially the beef in spicy broth my husband had, but taking feedback from other locals this was unusual.  Main course choices include the obligatory steak list but then a good selection of other interesting things like chocolate pasta with scallops!
The food is wonderfully presented  and the service is excellent –  friendly and obliging and happy to speak English if you want to.  Prices are fair, it isn't cheap but reflective of the quality you will find here. Please book as it is a small place and very well rated locally and on TripAdvisor.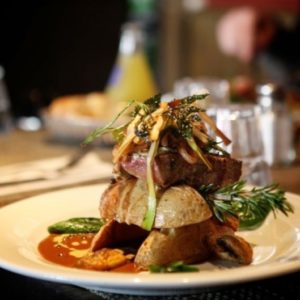 Restaurant Les Vents d'Anges
10 Chemin des Moulins
74110 Morzine
04 50 37 66 71